Bridal Hair and Wedding Hairstyles at Glo Extensions Denver
Glo Salon will help you look stunning on your wedding day from the moment you walk down the aisle to the very last dance, because well -- you deserve it! So sit back, relax and let us help you look perfect for your big day!
Beautiful wedding hair styles for the most photographed day of your life!
Whether you're a bride, bridesmaid, flower girl or a Mom of the couple-to-be, our team of wedding hair stylists is ready to make your hair look stunning.
We know that deciding on your wedding hairstyle involves taking into account your dress, the venue, the weather and your wedding theme before settling on the final look...that's why we offer a 100% customized approach. Tell us your vision, we'll bring it to life.
Our wedding hairstylists specialize in…
Classic Wedding Hairstyles
Updos and hall updos with braids
Vintage Wedding Hairstyles
Boho Wedding Hairstyles
Bridal Styles with Hair Extensions
Hairstyles for the Bridesmaids and Mother of the Bride
Bridal Hairstyles for your wedding theme.
Book Your Wedding Hairstyle Trial Run at Glo Extensions Denver
Imagine the possibilities as you work one-on-one with Glo Salon in Denver to develop a custom, tailored approach for your special day. During your wedding hair trial run, we'll show you exactly how you'll look on your special day. Use this appointment to get an idea of how your wedding hair feels and performs for an extended period of time, so make sure to schedule a special date that night because you'll look fabulous! During the trial, we will take notes and photos of what we did so that when your big day comes, we are ready to recreate the look.
NOTE: We recommend scheduling at least 6 months in advance of your big day.
Free Bridal Hair and Wedding Hairstyles Consultation
Even before your trial run, we're here to help you plan your big day. Book a Free Wedding Consultation by filling out the form below or calling (303) 968 4222 and come in for a strategy session. Tell us about your ideas for your dress, your flowers and theme and we'll give you some ideas for your wedding hairstyle. It's never too early to come in for a wedding hair consultation, especially if you plan to grow out your hair or if you think you may want to add hair extensions for the big day.
View Our Wedding Hairstyles
Book Your Wedding Hair Appointment
Hair Extensions for Your Wedding Day
We specialize in hair extensions, a great option for boosting the length or fullness of your favorite wedding hairstyles. We offer several options:
Hand Tied Hair Extensions - These weft extensions use a natural beaded row application, also known as a sew in application.
Great Lengths / Keratin Bond Fusion hair extensions - These last around 4 months
Tape-In hair extensions - These last for more than a month, from your wedding rehearsal right through your honeymoon, and you won't even feel them.
Clip-In hair extensions - We'll train you to attach and remove them so you can wear them to other special events.
Top of head pieces- also known as toppers, these clip in hairpieces add discreet length and/or fullness to any style.
Wedding Day Services: Our place or yours!
We can handle bridal parties of every size, large or small, both in the salon and on location. Want us to come to you? The Glo team is happy to travel to your home or hotel, allowing you to be in the comfort of your own space or with your entire bridal party while we work our magic. A minimum of 6 people is required for on location services. A destination fees may apply for weddings outside the Denver metro area. Please call our salon for specifics as these amounts can vary based on location. (303) 968 4222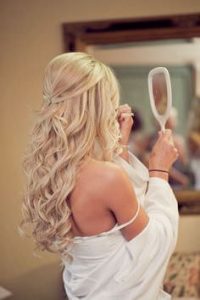 Classic Bridal Hairstyles
Any type of full updo is always going to be a popular wedding hairstyle as lots of brides want their hair to look as timeless as possible for their wedding album. Classic bridal hair updos can be worn high up and slicked back in a bun or a twist or the hair can be styled down low and more casually loose or to one side, with added volume around the crown creating a more bouffant hair style. This style can also be adapted suitable for bridesmaids or as a mother of the bride.
Vintage Bridal Hairstyles
The retro glam hairstyles from the 1920′s, 1930′s and 1940′s have had a resurrection and with a modern twist make for awesome wedding hairstyles! Retro accessories like birdcage veils and vintage broaches or clasps will make a unique bridal hair style.
Boho Waves, Braids and Plaits for your Wedding Hair
The "Boho-chic wedding look" is relaxed, casual and innocent. It is a hairstyle that is soft and elegant. Fishtail braids are usually loosely incorporated into this hair style which personalizes the look. The Boho-chic bridal hair trend is versatile and suitable for almost all hair lengths and hair types.

Bridal Half UpDo
The "half up half down" hair style is one of the most commonly chosen wedding hairstyles. This is because hair style is subtle and understated but will withstand unpredictable weather conditions. Height can be added around the crown and roots of the hair to lengthen the face with this hair updo which makes the face appear slimmer. The "half-down" can be left long, natural and flowing, or can be tightly curled or loosely waved depending on the hair texture hair type and of course the desired outcome.
Bridal Hairstyles with Accessories
Hair accessories are very popular and with so many statement pieces on the market, you will surely find one to complement your hairstyle and gown. Brooches, old or new jewelry, feathers, flowers, and hair bands, can be incorporated into your hair to make a stunning and unique hair style for your wedding day!
Your bridal hairstyle should flatter your dress style, its overall silhouette and neckline. Make sure you share pictures with us so that together, we can create your perfect hairstyle for your wedding day.