Rose Gold Hair Color Trend at Glo Extensions, Denver
Rose gold hair color, that peachy pink blonde also known as blorange is the coolest summer trend yet… and the good news is, it's super pretty.
Re-invent your style with gorgeous rose gold hair, at Glo Extensions you have come to the right place. Our Denver hair color specialists, after consultation, will create a great new hair color for you, what are you waiting for ladies, give us a call to book a hair color makeover today.
Get Rose Gold Hair Color at Glo Extensions in Denver
This shimmering blend of red, pink, and blonde shades has been embraced by celebrities and regular folks alike who are snapping their selfies and posting them all over the internet, one of the hottest hair color hues right now is the rose gold hair color. Seen on celebrities including Emma Roberts, Kylie Jenner and Hilary Duff, this is a gorgeous new look and its going mainstream. And rose gold hair color works on blondes and brunettes alike! Do you think this trendy hue might be the perfect spring/summer style upgrade for you? Take inspiration from these pics to help you decide.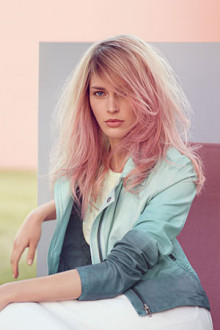 How to Get Rose Gold Hair
To achieve the perfect Rose Gold hair color have your hair colored by a professional, and that's where we come in at Glo Hair Salon in Denver. To have the transparency needed to pull off the rose gold color to begin with, your hair will most likely need to be lightened all over. We'll make sure your hair is healthy enough to go through the bleaching process and a toner will be needed to remove any brassy hues, then the color will be applied, creating stunning results. Be more adventurous and go from blonde or brunette to rose gold!
Hair Color Correction: Fix faded Color
If you've attempted to do a rose gold hair color at home, or have a bold color that has now faded, contact us for a free color correction consultation.
The Rose Color Hair color trend is everywhere, call now to book your hair color appointment at Glo Extensions Salon in Denver on (303) 968-4222.