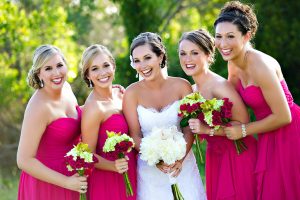 Wedding Hairstyle: Create the Perfect Look
Love is in the air during the summer months, which often means wedding bells! Whether you are attending a wedding, being honored as a bridesmaid or are even bride to be (congrats!) and are still toing with the idea of the perfect wedding hairstyle, Glo is here to help.
When beginning to take on the challenge of finding the perfect wedding hairstyle for the big day, you must consider the venue, dress, color scheme and even the weather, in order to settle on the final look. Here at Glo we take pride in our ability to create the perfect up-do and any other wedding hairstyle you are envisioning. Through our many years of experience with weddings and other special events, we feel confident in creating a hair designs that will surely make your day more beautiful.
If we are able to understand the vision you have for yourself and the wedding, we can get right to work. Sometimes it is more than necessary to try out different looks, which is why we offer a trial appointment. We want to give you the opportunity to discuss the small details and show you just how your hair and makeup will look before the big day arrives. To see what a wedding day with our team is like, watch this video of a wedding we worked at in Keystone, CO.
httpsv://youtu.be/wrJRnZPpsbA
Wedding Hairstyle: Denver
Your wedding hairstyle is truly an important aspect of your day. Lets create a look you will never forget. Glo loves being apart of the magic in your special day. Feel free to visit our photo gallery online and see some of the fantastic brides and bridesmaids we have had the pleasure of styling. Call us and make an appointment today at (303) 968 4222 or email us at [email protected]