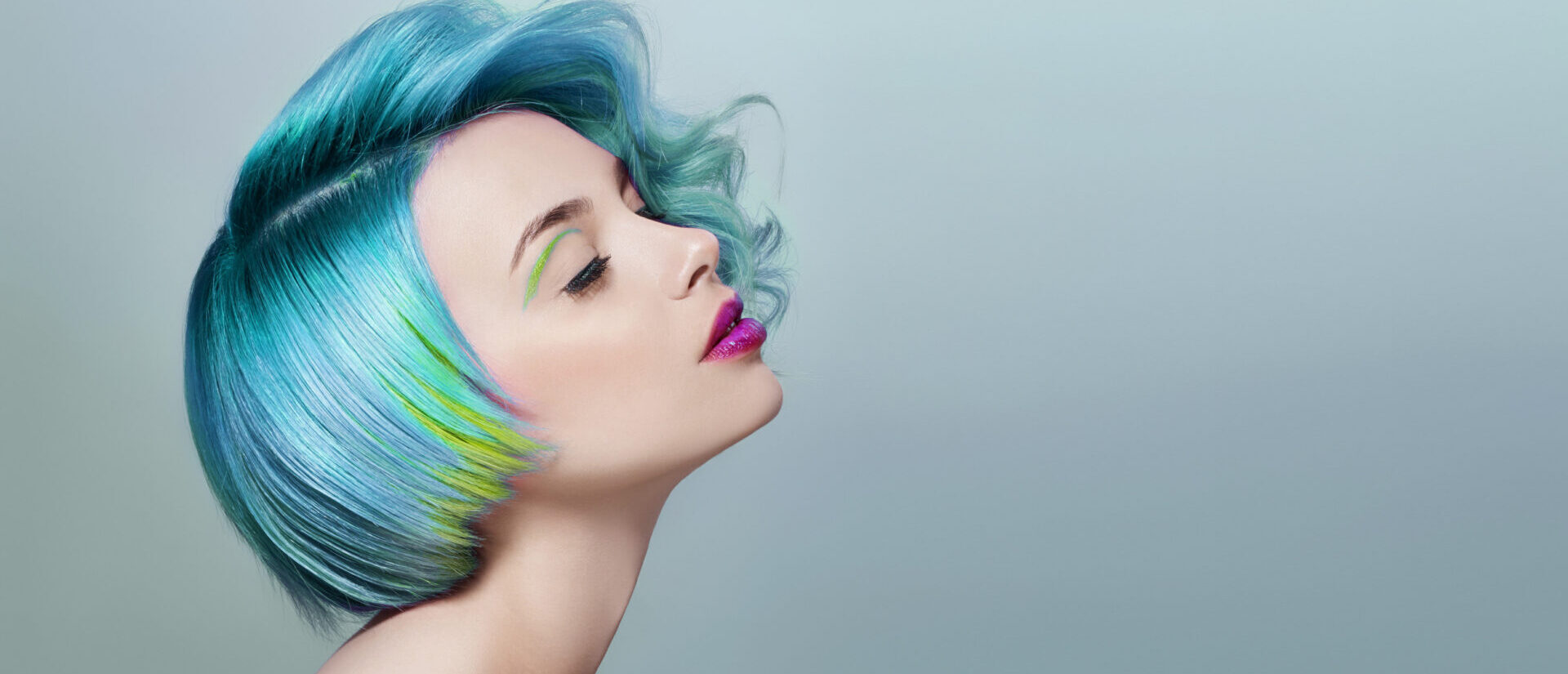 Hair Color, Highlights, and Balayage in Denver
Glo is now accepting new hair color clients as well as color-only hair appointments of all kinds, with or without hair extensions, with select stylists!
At Glo, we believe in a holistic approach to your style, designing your perfect color to create your signature look. Be sure to view our hair color picture gallery for some great makeovers by Glo Salon. From beautiful blonde highlights and rich lowlights, to ombre hair, handpainting and balayage – with or without hair extensions.
Change Your Color, Change Your Look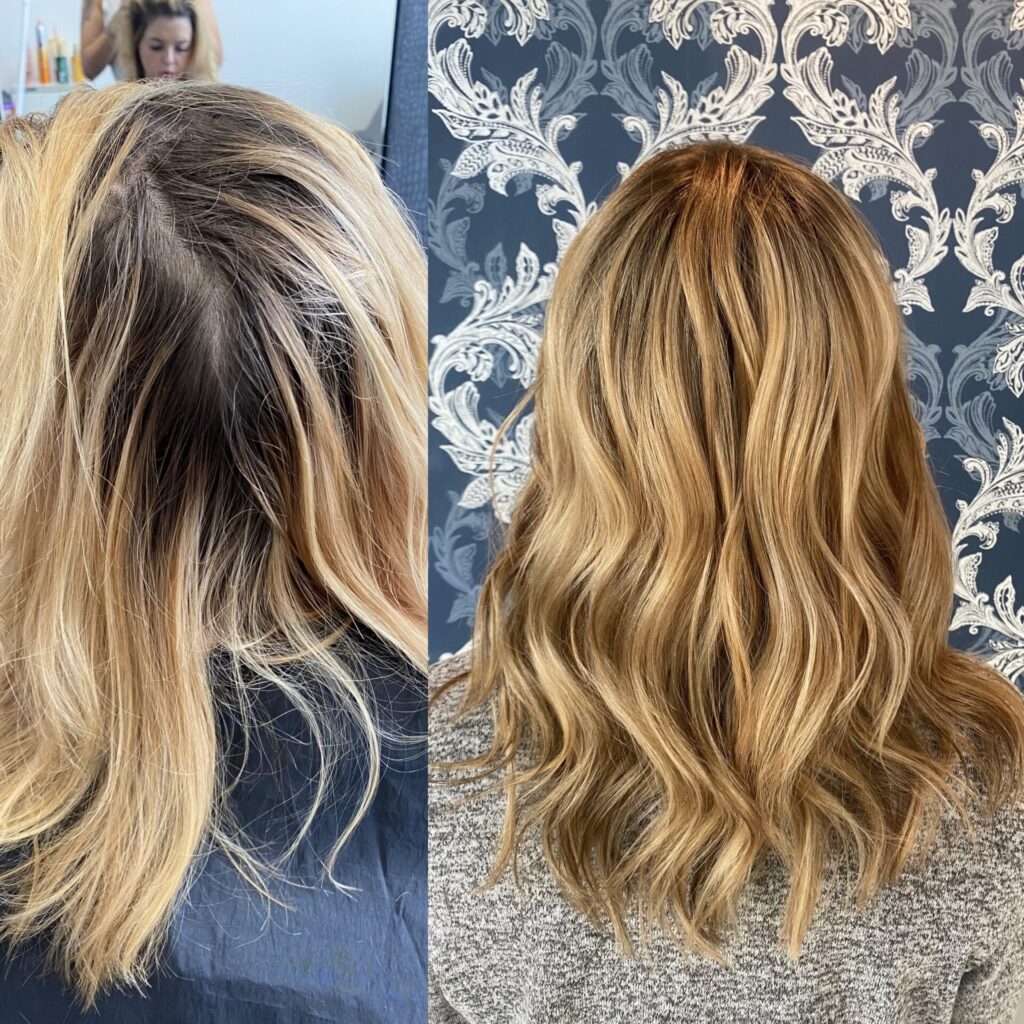 Sometimes all you need is a little change. We can add highlights or try a new color and give your style a lift. Are you ready for a BIG change? We love to do total color transformations. Maybe you've always been blonde, or always wear highlights. When the mood strikes, we can help you find the perfect color, with the right undertones, so that your new color looks amazing. We can't get enough of this gold beige blonde with dimensional highlights.
Blonde Hair and Platinum Blonde Hair
From icy blonde or ash blonde all the way to platinum blonde, we are the blonding experts, no matter what your natural color really is! We know how to recreate the natural highlights and lowlights of natural looking blonde hair. We also carry blonde and blonde balayage hair extensions in a wide variety of lengths so that you can add dimension and length to your hair all at once.
Blonde Highlights, Highlights & Lowlights
Your stylist may recommend one of several types of highlighting and color accent techniques to best complement your cut and style.
Foil highlights are a precise technique used to give face-framing highlights or blonde highlights throughout the hair. Lowlights add color, not lightener, to give your style some depth. And a combination of highlights and lowlights is a popular technique to give your color beautiful dimension.

Highlights should complement your natural color, but many women over-highlight their hair, so at our hair salon in Denver we often use lowlights to tone them down and temper the frosted look. Low-lights help bring out your skin tone and eye color. Blonde highlights are not everyone. For awesome looking color, stay within 2 shades of your natural color as a good rule of thumb.
Your color should never detract from your complexion, and too many highlights can make your skin look faded. A good tip is too add lowlights every third time you get your hair highlighted. They will help blend your highlights with your natural color, and you won't have to go to the salon with dark roots every six weeks.
Ashy Blonde Hair
The cool toned, ashy tones are popular now in Denver area whether, you have blonde hair or brunette. Beige blonde, platinum blonde, beach blonde and more.
Teasylights
Another hybrid of balayage and foils, where sections of hair are teased before lightener is applied, accentuating hair from the mid length down. But don't get hung up on the lingo. Tell us what you like or show us your inspiration and we'll combine techniques if we need to.
Natural Look of Babylights
Babylights are traditional foil highlights which are applied using a delicate technique to mimic the subtle, multi dimensional color seen on children's hair. Babylights are natural looking and a low maintenance color option. Babylights are a great way to introduce color to your hair in a subtle way. They work best on fine hair, and can be applied to any color or length of hair. The babylights should be fine around the hairline and parting, with a gentle graduation of color that is lighter at the ends.
Which highlights are right for you?
Women with dark hair should not go more than three shades lighter than their natural color with highlights. In terms of lowlights, tones of red and a blend of copper and gold colors work best. When brown hair lightens naturally, it has to go through shades of red first. Thus red lowlights make highlights look much more natural on brunettes.
Natural blondes have more range in terms of highlights and don't have to adhere firmly to the three-shade rule. Gold and copper lowlights are best, especially for blondes with very fair skin. They prevent the color from becoming brassy and won't wash out a pale complexion. When mixing highlights and lowlights, the colors should be well blended and natural. Also, don't have the back of your head highlighted too heavily. The sun naturally lightens the front of your hair, so highlighting too much in the back will detract from the natural feel of your color.
For winter highlights, going a little darker is best. Darker hair lights are better for skin that is often paler in winter and won't drain the color from the face. In summer, try a lighter color like platinum highlights. It's best not to attempt highlights and lowlights at home. Unlike single-process color, it's a customized process. Each shade must be carefully blended to enhance your color and complement your skin tone.
Balayage & Handpainting
Depending on your desired look, your stylist may suggest handpainting or Balayage, a freehand technique in which swatches of hair are sectioned and hand painted with a lightening agent. Blonde balayage is quite a popular look. We do a lot of blonde balayage with hair extensions too!
Depending on your desired look, your stylist may suggest handpainting or Balayage, a freehand technique in which swatches of hair are sectioned and hand painted with a lightening agent. Blonde balayage is quite a popular look. We do a lot of blonde balayage with hair extensions too!
Foilayage
Ok, it's not a real word but what else would we call the technique that combines balayage and foils. It's balayage but with extra lifting time, thanks to the foils. More lift means lighter and brighter.
Bronde Hair – A Fusion of Blonde & Brown
Bronde is a low-maintenance, highlighted blend of blonde and brown tones which started in 2017 and is still going strong for 2018. This winning combo will warm up your skin tone, and will add dimension and life to your hair. Bronde hair, with its fusion of blonde and brown with some sun-kissed pieces around the face will allow you to keep a little bit of summer with you.
Root Touch Ups
We can color your new growth so that you don't have an obvious root line. Not only does it cover natural color re-growth or gray hair, but it also adds new color depth and shine so that your hair looks in perfect condition.
Shadow Root
Some clients don't like visible highlights up near the scalp or where the hair parts. A shadow root is a perfect solution. The shadow root look is super lived in with more base color showing. This look can be achieved with a root smudge service where a demi permanent color is applied.
Root Smudge
A root smudge service is not quite the same as a root touch up! After getting blonde highlights, some clients like to have a blended effect especially at the top of the head. A root smudge service is a demi permanent hair color applied to just the roots i order to give that shadow root look to highlighted hair. The demi permanent hair color is not intended to cover grey hair, rather to deepen the base color.
Salt & Pepper Hair Color
If you're trying to grow out your natural grey color, instead of waiting for it to grow out, we can help you by adding darker lowlights and lighter grey tones, mimicking your natural salt and pepper pattern. We can achieve your new look with either hair color alone or with the addition of hair extensions in pre-colored shades of platinum, blonde, and silver.
Gray Hair Coverage
Covering resistant grey hairs or your having a root touch is a job best left to the skilled hair colorists. They can quickly get rid of unwanted white or grey hair and cover up your re-growth with precision application. This ensures no overlapping of color – only beautiful healthy, shiny looking hair! There's no shame in going gray and in fact this can be used to your advantage, even youngsters are coloring their hair grey in the name of fashion! Our hair color specialists can enhance your gray hair to create a beautiful color that is unique to you. We can also add blonde color to your gray or even pastel hair colors for a fun and fresh look.
Vivid Fashion Colors
Blues, purples, reds and pinks are the most popular fashion colors right now, with or without hair extensions.
Pastel Hair
Soft blues and pinks are in fashion and are a Spring favorite. Our expert colorists will first make sure there are no yellow tones in your hair so that you get the full powdery look of these pastel. Hair extensions are also a great way to incorporate some hints of blue and pink pastel colors into your current style.
Red Hair Color
It has never been so fashionable to go red. Whether it's a sunkissed strawberry blonde hair color, a red hot cherry red or a natural and effortless auburn hair color – look out! Red heads will be everywhere. There are so many different options when it comes to red hair, let us help you find your perfect shade:
red-orange hair color and cherry red
strawberry-blonde hair and copper reds look gorgeous against porcelain skin and paler skin tones.
auburn hair with russet tones makes green eyes pop and looks fantastic with nude and peachy make-up
Best Hair Color for Your Skin Tone
Whether you want to make a bold statement or simply cover grey, Glo Salon can guide you to the perfect hair color choice for your hair type and your natural skin tone.
Contrary to popular belief, hair color and skin tone go hand in hand. Depending on your natural skin pigmentation there are certain hair colors that tend to bring out your natural beauty more so than others. The perfect hair color will not only complement your skin tone and allow your best facial features pop, and it can also help you look younger. However if you get it wrong, you could end up looking washed out, tired, and very unnatural.
If you were born with black or brown hair, it is likely that you will have warmer and earthy undertones in your skin like yellow, brown, gold. Those with warmer undertones in their skin will tend to look better with a warmer hair colors. If you were born with blonde hair, you most likely have cooler skin undertones like blue, green, pink. You will tend to look better with cooler hair colors.
Hair Color Correction. It's a Thing.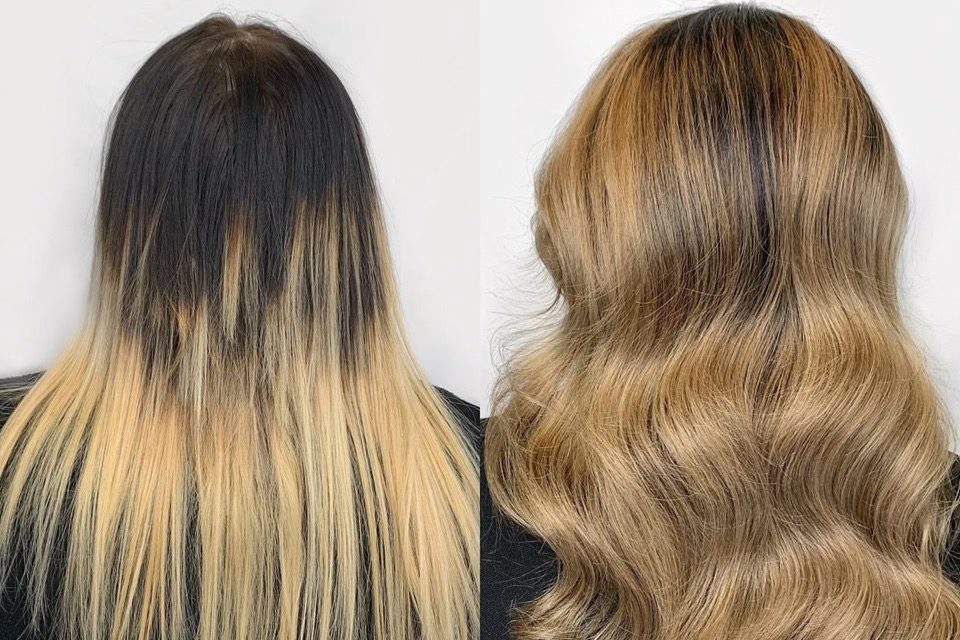 Glo Salon is one of Denver's top hair salons for color correction.
If you've had a hair color disaster, don't stress. We're here to help! The truth is, we're experts at adjusting hair color, removing color and extreme color changes. We fix blonde that's gone brassy, lighten up excessive roots, remove drugstore hair color, and remove bands of overlapping color from repeat dye jobs. We also know how to perform drastic color changes.

Fixing a hair color problems can be as simple as bringing your hair color back in balance or taking your blonde hair down a notch. We also get a lot of requests to fix a bad balayage or ombre hair, attempted at home or by someone who didn't know what they were doing. Corrective hair color is a specialty at Glo and that's why we are called hair color specialists. Sometimes, hair color correction requires us to remove color before we redo the color. It can requires multiple steps in order to restore your hair.

Book Your Hair Color Appointment Today - Call 303.968.4222!
Top Salon for Hair Color, Balayage, Blonde Highlights & Fashion Color
Denver Tech Center
Cherry Creek
Lone Tree
Greenwood Village
Centennial
Highlands Ranch
Englewood
Littleton
Castle Rock.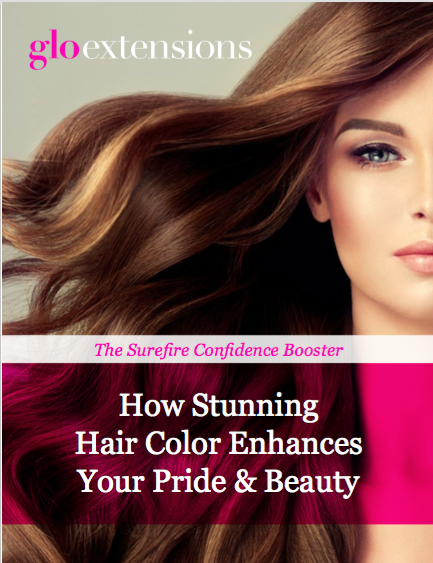 Get your Free Guide to Hair Color Confidence from Glo Salon Denver
Just enter your info below to get an immediate download link for our new Glo Hair Color Guide sent to your inbox. The Guide includes a free gift for you!