When you are looking for the best hair extension specialists, nothing means more than great hair extension reviews and comments from existing clients at our hair salon in Denver. Watch our video to hear hair extensions reviews firsthand from our current clients and scroll below for more written reviews.
These client testimonials demonstrate our commitment (and success) in giving you the best hair extensions and great service. Click on any image to enlarge.
Glo Clients please leave your hair extension reviews on the web:

Hair Extension Reviews from Glo Clients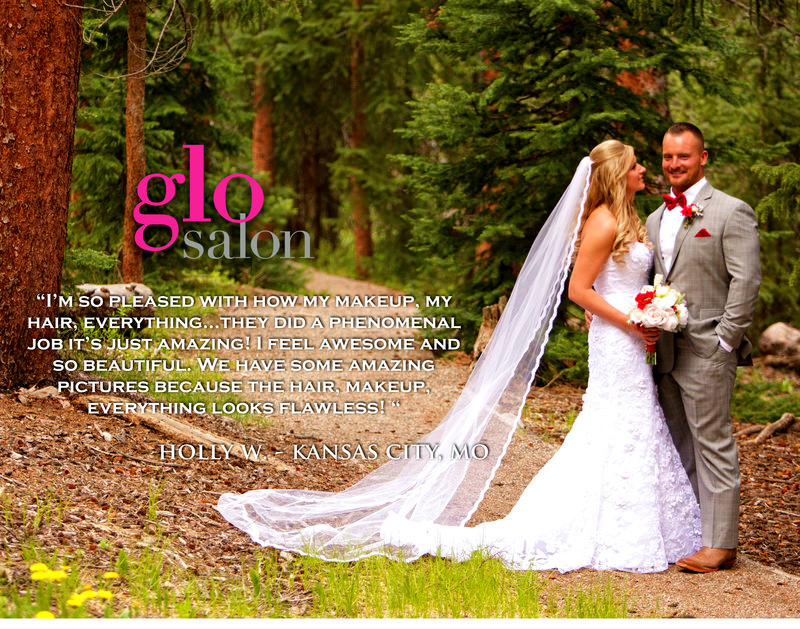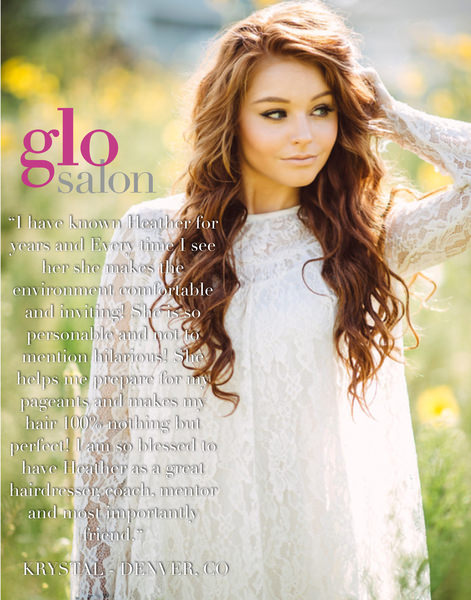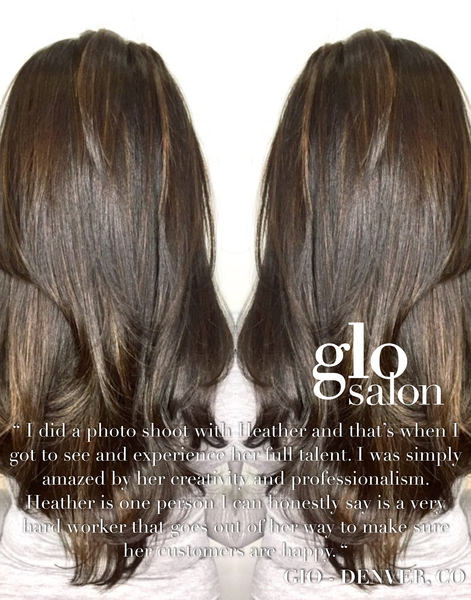 "Heather's work is phenomenal!"
I am so glad I came to Glo! I never thought having long, healthy, gorgeous hair could do so much for one's confidence, but it brought out a whole new me. The process of getting extensions was painless, fun, and as you can see, Heather's work is phenomenal! I got really good info on how to take care of my tresses as well as styling it. Heather has tons of experience and no question goes unanswered. If you want the best, go where you'll get the best! Totally recommend going to Heather!!!
Angelique M. of Denver, CO
"I Could Not Be Happier!"
I couldn't be a bigger fan of Heather. This is the 3rd time I have had extensions. The last two times they have been done by Heather at Glo! I just recently got Great Lengths extensions in and I could not be happier! They look so natural, the color matches perfect and they are super easy to maintain. I have had no issues and the application was perfect. Heather makes you feel so comfortable and I truly love my hair. I have already made my next few appointments and will always go to Heather for my extensions. In fact, I was just at lunch today and I noticed the table next to us staring at me. I turned and they said, "Oh my god, I love your hair!" I get compliments all the time, and I can only thank Heather for them!
"The BEST stylist I have been to!"
Heather is by far the BEST stylist I have been to. I have yet to leave her studio feeling anything other than amazing. Absolutely recommend!
"I went from dull and boring to sexy and sassy!"
Before I started coming to Heather in April 2011, I though my hair looked good, BOY WAS I WRONG!!! When she showed me the before and after pictures I wanted to cry, my hair looked bad until her magic fingers got a hold of my head. She cut it to make it even, colored/highlighted before we added the 1st set of extensions and WOW I went from dull and boring to sexy sassy. She did another color and set of extension 4 months later and a 3rd set in Jan 2012 (which i had her use a brand that i picked – bad move on my part- she warned me, they looked good but didn't last as long as the first 2 sets from the brand she loves), guess what I'm thinking about getting set 4!. Heather knows her stuff and I wouldn't go anywhere else, SHE IS THAT GOOD.

"I was simply amazed by her creativity and professionalism!"
I moved back to Colorado about two years ago and went through a mess and about 20 bad hair cuts trying to find someone who can do my hair the way I like it to be done, then I came a crossed Heather's myspace page about a year ago and told my mom about her. As a present for landing a job here in Colorado my mom paid for Heather to do my hair and since then I will not go anywhere else, not only has my hair grown faster and healthier I get compliments left and right about how pretty it is. Every time Heather styles my hair she has been awesome about teaching me how to do it on my own. Just this past May I did a photo shoot with Heather and that's when I got to see and experience her full talent. For the photo shoot Heather did all the models make-up and hair, I was simply amazed by her creativity and professionalism. Heather is one person I can honestly say is a very hard worker that goes out of her way to make sure her customers are happy. I am 100 percent happy with the out come of her work! Delighted to give her a "glowing" hair extension testimonial 🙂

Kendra, Colorado Springs
"I don't think I will let anyone else touch my hair!!!"
I have been seeing Heather for hair extensions for over two years now. I absolutely LOVE them. I have always had thicker hair, but decided on the extensions for the length (and the quality of hair she uses is amazing too). She does such a fantastic job and the extensions look so beautiful and natural, it is hard for me to stop (I get complimented on my hair almost everywhere I go). I don't think I will let anyone else touch my hair!!! I think hair extensions are a "must-try" for everyone, especially if you are looking for that "WOW" factor!

"Her work is truly an art!"
This Lady is an Amazing person inside and out! Her work is truly an Art that she takes pride in!!! I am in LOVE with my Hair!!!
"Very happy with my extensions!"
Heather is knowledgeable and really a joy to be with ! I've gotten several comments on how amazing my hair looks."
[WPCR_SHOW POSTID="ALL" NUM="15″ SNIPPET="" MORE="" HIDECUSTOM="0″ HIDERESPONSE="0″]
Read more reviews online:
Find the latest hair extension reviews from real client:
Glo Extensions Denver Reviews on Google
---