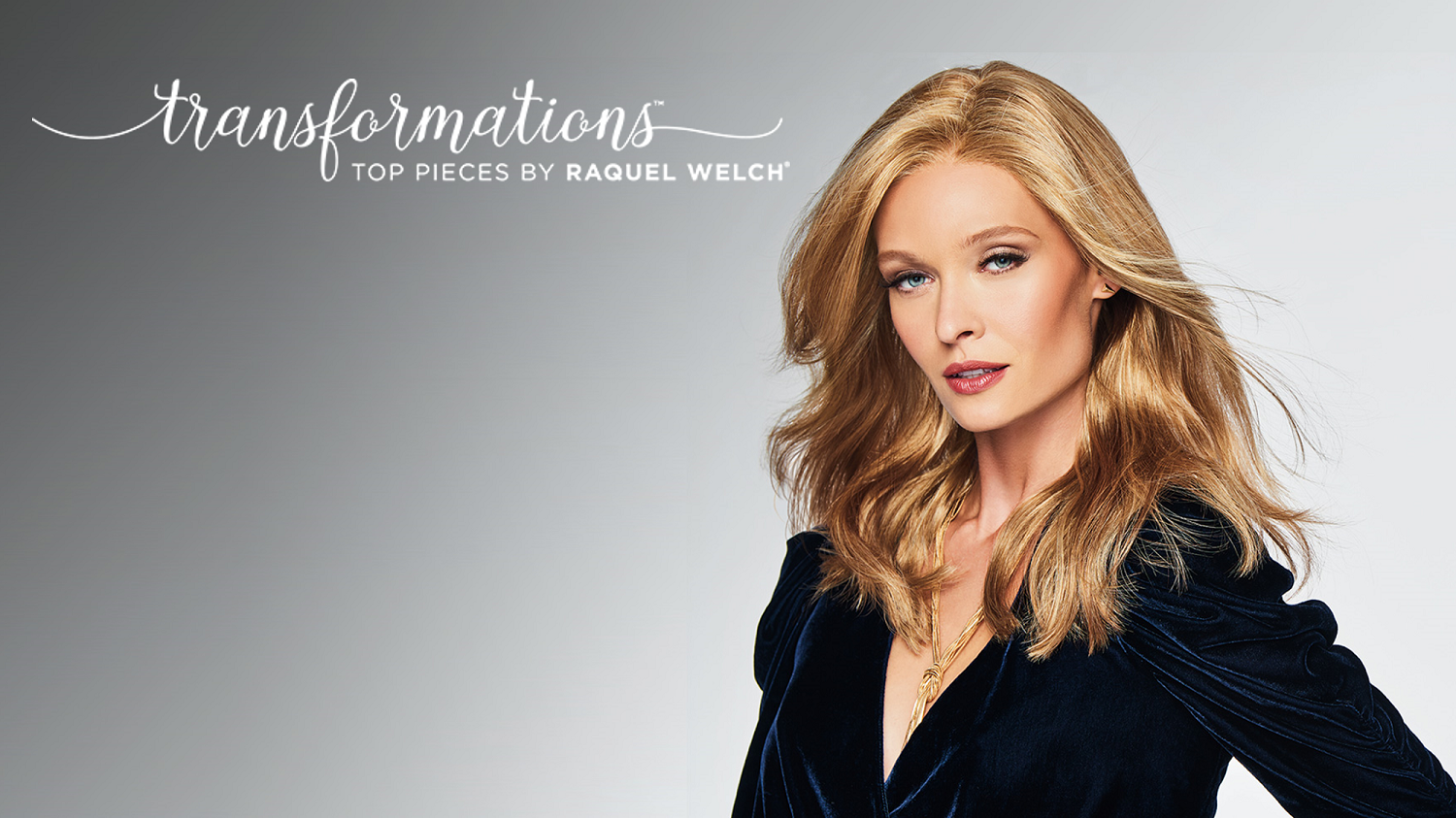 Gorgeous Wigs and Clip In Toppers
from the Raquel Welch Transformation Collection by HairUWear are at Glo Salon in Denver
Glo Extensions Denver Salon has HairUWear wigs and hairpieces from the Raquel Welch signature collection. These aren't your typical wigs and hair pieces. We carry beautiful natural colors, bold fashion color, faux fringe, and clip-in bang or pony styles that can truly enhance your style. You'll be matched with the right color, fit, style and textures for a seamless solution for hair loss. You'll leave Glo Salon with stunningly gorgeous locks you can show off anywhere you go.
HairUWear For Hair loss, Thin or Thinning Hair

We book a lot of hair consultations with women who are experiencing hair loss due to stress, alopecia or trichotillomania. For those with thinning and fine hair, especially around the crown, having a top piece or "topper" can truly fill in those thin spots, making your hair loss much less noticeable. We offer several different types of solutions.
Clip in toppers, a single piece for top of head coverage
Toppers combined with tape ins, strands or clip in extensions for top of head coverage with added coverage around the head
Heat resistant synthetic wigs for full coverage
Human Hair wigs for full coverage
Glo Clients in Denver showing off their HairUWear!
If we didn't mention it, you would NEVER know that these Glo beauties are wearing hairpieces. Some are wearing a topper, a top of head hairpiece, combined with hair extensions such as tape-ins, strands or clip ins. That's what's so great about these toppers, they can be part of a custom solution designed just for you.
Find the Perfect Wig or Topper for Effortless Everyday Beauty with HairUWear.
All of the HairUWear pieces and full wigs are made to be worn comfortably. You'll forget you are wearing these pieces, as they are lightweight and easy to put on.

Human Hair Toppers by HairUWear
Look at these gorgeous clip in toppers from the Raquel Welch Transformations Collection. The first one, Guilded 18 inches wig, is one of our best sellers!
Raquel Welch Spring 2021 Signature Wig Collection
This is a collection that has been the cornerstone of faux hair for over twenty years! There is a collection to fit everyone's needs, including a Couture and Black Label Collection. This is glamour girl hair at its finest with 100 percent Remy human hair. You'll notice the exceptional difference that HairUWear offers with each style made to enhance any look from naturally pretty to supremely dramatic hair. It's all up to you on the style you choose to rock.
Fantasy Color Wigs by HairUWear "Hairdo"
Hairdo Fantasy Color wigs are made with Tru2Life heat-friendly synthetic hair that can be flat ironed curled or blown dry using styling tools up to 350˚F/180˚C. Ask Heather about these gorgeous wigs. Here are some of her favorite styles from this collection.
Get Started with a FREE Consultation
Our expert hair extensions consultations are valued at $50, and it's on us. No obligations. Completely free of charge. Why? We do this to to make sure that you have a solid knowledge about hair extensions and what you can expect, what they will look like and how it fits into your budget.
Book Your FREE Hair Consultation
We are certified Wig & Topper Experts. If you're struggling with thin hair, thinning hair or hair loss, come in for a private one on one consultation. We'll talk to you about hair replacement options that are easy for you to wear and style at home. We offer a variety of different lengths and colors to suit your look and your budget. And most importantly, we can customize a solution for your needs. With the different types of hair extensions and clip in pieces, we can offer a solution for just top of head, or a full head solution. Please start with a free consultation.
Book your consultation appointment by using the online form or calling the salon.
303-968-4222
HairUWear Wig Services at Glo Salon in Denver
Consultations and Color Matching are complimentary.
If you're considering a clip in piece or a full lace wig, schedule a consultation in our private setting.
Clip ins, Toppers & Wig Services
Cost of the hairpiece is not included in the service prices.
Clip-in Bangs & Ponytails
Clip in bang install and cut - $30
Clip in ponytail install - $30
Ponytail blend - $30
Clip-in Hairpieces & Toppers
Hairpiece or Topper Blend - $75
Hairpiece of Topper Blend and Style - $75
Hairpiece or topper Install - $50
Hairpiece or topper synthetic style 4"-14" - $45
Hairpiece or topper synthetic style 16"-22" - $65
Wig Tightening
If your wig is too loose we can tighten by sewing the lace- $75/hour
Wig Wash-Cut-Styling
Wig Cut (no style) - $40
Wig Haircut, wash and style - $65
Wig Face Framing and Bang Trim - $15
Wig Wash And Style 4"- 14" - $55
Wig Wash and Style 16"- 22" - $75
HairUWear Hairdo Raquel Welch Collection Wigs & Toppers Near Me
Denver
Denver Tech Center
Lone Tree
Greenwood Village
Centennial
Highlands Ranch
Englewood
Littleton
Castle Rock.