New Hair Extensions – HotHead Tape In Hair Extensions at Glo, Denver!
Here at Glo hair extensions in Denver, we see the dramatic effects created by using hair extensions day in day out. We see first hand just how this simple, affordable modern luxury makes every woman who walks out of Glo's doors feel a million dollars. Whether you decide to get hair extensions fitted for length, thickness or to change your hair color, the HotHeads Tape In hair extensions range of adhesive weft hair extensions are fixed using an easy and safe method, reducing damage to your own natural hair.
The concept of the HotHeads Tape In hair extensions system is easy and effectively very simple. Individual strands of cuticle intact human remy hair are gathered in small sections and secured at the top of the extension with adhesive tape. This adhesive tape is fixed to both sides of small sections of your natural hair. These thin hair extension wefts don't need any heat application, no sewing and with no need for tools, you can have fabulous hair in less than an hour with the HotHeads Tape In hair extensions system! What's more, HotHeads Tape in hair extensions have been developed and designed to sit flat to the head for an undetectable flawless finish.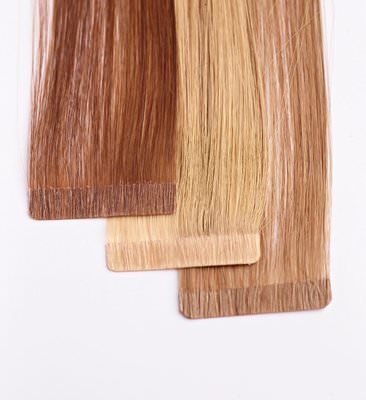 HotHeads Tape In Hair Extensions: Micro Strands:
Hotheads Micro Strands are specifically designed to lay completely undetectable in areas where tabs tend to be cumbersome. Micro Strands are available in 20 Piece Packs in 3 lengths. It is recommended that Micro Strands be removed and new strands be applied every 4 weeks, to maintain the integrity of your hair.
HotHeads Tape In Hair Extensions: Pastel packs
Pastel packs are pre-blended with our human hair and temperature safe synthetic fiber. Our pastel shades come in Light Peach, Lavender and Buttercream. Create subtle candy-colored looks without the damage associated with coloring your hair. Pastel packs are available in multipacks, as well as 12 piece packs.
HotHeads Tape In Hair Extensions: Ombré Collection
Our Ombré line provides that highly sought after gradation, without the maintenance associated with most Ombré styles. Ombré extensions are available in 2 lengths and 6 gorgeous dark-to-light shades.
For more on hair extension services in Denver, check out our hair extensions at Glo Salon.
HotHeads Tape In Hair Extensions for Thinning Hair
If you're suffering from thinning hair and hair loss, this can be an incredibly difficult and sensitive time. One of the best ways to disguise thinning hair and disguise hair loss in women, especially around the frontal area of the head is to invest in hair enhancements and HotHeads do a fantastic range called HairWear. HotHeads provide a full head solution for thinning and fine hair using top of the head hair enhancements that require no shaving or bonding. Hairwear pieces are worn all the time for up to 6 weeks and can be used for up to 12 months. This is the perfect solution for women who are self conscious about hair loss and thinning hair on the top of the head. Used in conjuction with HotHeads Tape in hair extensions for a full finish, these can literally change the life of the wearer! Please contact us for more information and to discuss your individual needs. All clients' information is treated in the strictest confidence.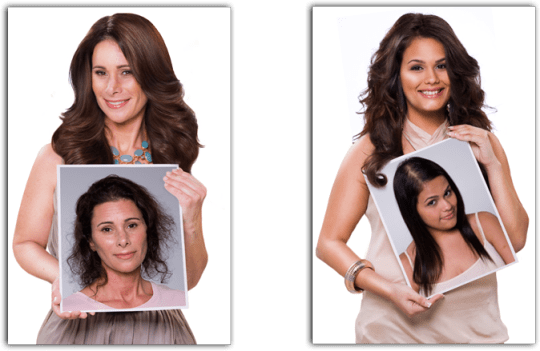 HotHeads Hair Tape In Extensions at Glo Extensions, Denver
If you're looking for adhesive tape hair extensions then HotHeads Tape In Hair Extensions are a highly recommended hair extension system. At Glo Hairdressing Salon in Denver, I am fully trained in the HotHeads application and HotHeads removal methods. Please contact me to arrange a consultation and discover a little more about HotHeads Tape In hair extensions in Denver at Glo Extensions.
HotHeads Tape In Hair Extensions Before And After Gallery
HotHeads Tape In Hair Extensions on Facebook
Hotheads Tape In Extensions Before and After
---