Check out these fantastic Holiday Party makeup ideas from Glo…
When you're constantly surrounded by glittery ornaments and the bold colors of the holiday season, the best way to really stand out in the crowd is with glamorous holiday party makeup. During daylight hours, the cold weather tends to have you bundled up so the only thing visible is your face, which can help your stylish holiday party makeup stand out even more! These are a few of the top holiday party makeup trends from our hair salon in Denver. Sport these at any holiday party and you're sure to please the crowd.
Holiday Party Makeup Trend – The Social Butterfly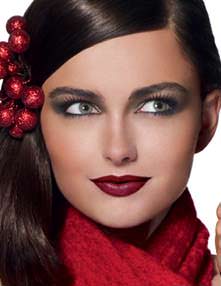 There's just gleaming energy about a girl who can walk into a holiday party and charm everyone with her with holiday party makeup: bright eyes and rosy lips and cheeks. It radiates emotion and warmth to those around them. Slap on a pearly shadow, and apply lash extensions. When you laugh, your lashes flutter, so this enhances the effect. Next, apply cream blush and berry lip stain for a gorgeous finish.
(Tip- Bold lips are big! Lips are a way to instantly change your look. This goes for all of your holiday party makeup looks. They will allow you to go from party to party and really draw attention)
Holiday Party Makeup Trend – The Mysterious Madame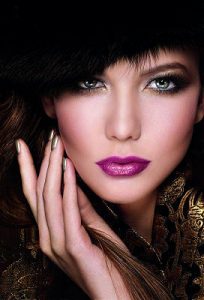 If you're around an unfamiliar holiday party crowd, add intrigue to your holiday party makeup with smokey eyes. The deep shadow disguises your eyes and your feelings. Line your upper eyelids with black liner, use a cotton swab to smudge them out. Sweep on a navy shadow, and brush on dark, sexy mascara. Keep the rest of your look subdued with a soft shimmer powder, nude blush, and plum/raspberry lipstick.
Holiday Party Makeup Trend- Gutsy Glitter Girl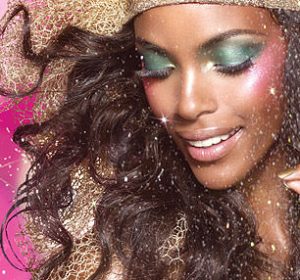 Feeling bold? Get a little gutsy with your eye shadow and add some shimmer. Holiday parties are the perfect time to add some sparkle to your look and your holiday party makeup. One technique is to dust glitter onto the center of the lid and then sheer out with a dot of moisturizer to make it look effortless. The lightweight glittery particles add glamour to any type of makeup, and can be used on the face or body.
(Tip – purple flatters emerald eyes; green enhances brown and hazel irises, and don't forget to apply mascara.)
Holiday Party Makeup Trend – Flirty Fashionista
Sometimes the best place to meet guys is at a social holiday party. If you really want to reel in the boys attention with an eye-catching holiday party makeup look, gleaming eyes and lips always does the trick.
Simply brush your cheeks with a shimmer powder, make a silver shadow trace along your eyelids and lower lash lines, then apply dark mascara and a pink gloss.
Holiday Party Makeup Trends at Glo
Want to create a stunning holiday party look with your makeup this season? Call Glo Hairdressing Salon in Denver and let our expert Mac trained makeup artists guide you through the latest trends and have you wowing all the guests. Call us at (303) 968 4222 or visit us at our Greenwood Village Salon for Holiday Party Makeup application.