By Kelly Reising – Glo Extensions Beauty Editor
"What's the best hair color for me?"
This is one of the biggest questions that salon colorists get all the time. The answer is more complicated than you might think. The question that a ton of clients ask surrounds how to choose the best hair color for your skin tone. The answer depends on how you want your hair color to look, and whether you are a warm or cool toned skin type. Once you know which type you are, warm or cool, think about how you want your hair color to look. Do you want it to be dramatic or more natural?
So, is your complexion cool or warm? Skin tone is totally independent of hair color. Typically, cool skin tones are move visibly pink in color, while warm skin tones are more yellow or olive. So, not all blondes have cool skin. Some blondes have rosy cheeks, while other blondes have a golden glow to their skin.
For Dramatic Hair Color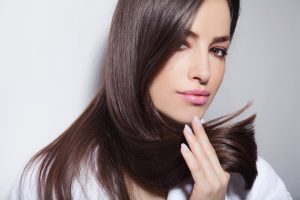 Above, cool skin with warm hair (left) and warm skin with a cool toned hair color (right).
The simple fact is that when you go in the opposite direction of your skin tone, it's going to look more dramatic against your features and skin. Cool skin tones are going to want a warmer hair color for more impact.
Warm skin tones that want drama are going to look for colors in the opposite spectrum that are ash, platinum cool, black, or even just neutral.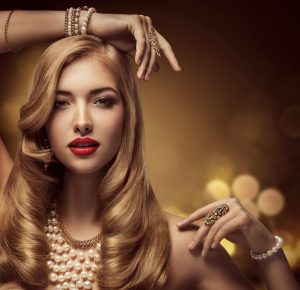 For A More Natural Hair Color

If you don't want too much drama with your hair, it's easy to go in the same tone as your skin. That is going to bring you a more natural look with your hair. So you'd want cool skin with cool hair or warm with warm toned hair. Does that make sense? Hair color ends up being a more personal preference.
People usually know how they want their hair color to look, even if they aren't sure about tones. Still not sure about your skin tone? Try this test at the salon:
Hair Color Swatch Test

When you are at Glo Extensions Denver Salon, getting your glorious extensions or hair color, ask to see a few swatches of warm and cool hair shades. There is usually a large chart with swatches of hair strands with the colors they offer. Hold up a few cool or warm strands to see which you like better with your skin tone. Or just pick based on dramatic (the opposite), or natural (the same) color with your skin tone.
The fact is there isn't any right or wrong with hair color, it's just about the look you want to achieve. Bold or subtle. It's all up to you. Plus, if you still aren't sure, just talk with your colorist to find out what she would think might be the absolute best color for your skin tone. Our highly trained staff is always ready to offer their expert opinions, so you'll walk away totally in love with your hair color.
About the Author
Glo Extensions Beauty Editor Kelly Reising is the published author of "Lifetips 101 Makeup Tips" which is available on Amazon.com and at many bookstores nationwide. With a journalism background, her articles have appeared in such publications as Allure, Vogue, and Working Mother Magazine. Connect with her on Twitter @kellyreising