When the summer temperatures heat up and it feels like beach season, chances are, you're likely to find yourself in the sunshine more often. But before you rush outside, you should know that warm weather and sun can do a lot of damage to your color-treated hair.
It's important to take a few steps to protect your hair from the sun and chlorine, which can make it brittle and dry. This kind of damage will allow the color molecules to fade out and eventually your gorgeous summer hair color will disappear. But luckily you can put up a strong defense all summer long just by following these steps – more great hair colour advice from Glo Hairdressing Salon in Denver.
If you have followed our tips on getting the best hair color– now learn the best after-care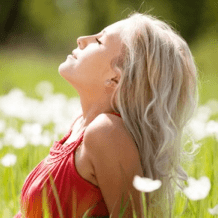 moisture Start off by boosting up the moisture in your hair with an extra hydrating shampoo and conditioner. If you have fine hair, use a volumizing shampoo to give it a little more body. Always follow up with a conditioner to seal in moisture and keep hair smooth. The conditioner will also help weigh down the ends of your hair to prevent it from frizzing up.
conditioner Apply a leave-in conditioner to damp hair. The conditioner will provide an extra boost of moisture and help prevent your hair from frizzing up in humidity. Leave-in conditioner can be especially helpful all summer long because it will lock in the moisture, keep your hair soft, and prevent your hair color from fading. Remember to reapply it at the end of the day to restore any moisture you lost.
frizziness For curly or wavy hair, you can use a styling cream before heading out of the house to smooth down frizziness and keep your hair in place for the whole day. For finer hair, you can use a root-lifting spray instead to keep your hair from falling flat in the warm weather. For thick hair, apply spray gel from the middle of the shaft to the ends to control frizziness by weighing the hair down.
UV rays Don't forget to protect your tresses from the sun's UV rays. They'll cause breakage in your hair, which then causes the color to fade out faster. But you can block the sun with a hair oil or detangler containing UV protection. An easy solution at home is diluting 2 teaspoons of sunscreen in 1 cup of water in a spray bottle, then spritzing it onto damp hair before going outside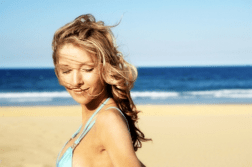 chlorine If you're going swimming, make sure to rinse your hair before going in the water. This will dilute the chlorine or minerals in the water and prevent them from causing as much damage. Always rinse off your hair when you get out of the water because chlorine build-up can dry out your hair and cause discoloration in your hair color.
protect Apply a hydrating hair mask once a week during the summer. This will help restore your hair's moisture, protect the color from fading, and give it some extra glossiness.
wear a hat The easiest way to give your hair and color full protection from the sun is to wear a hat whenever you go outside.
heated tools Try to stay away from using heated styling tools and products that will dry out your hair even more during the summer. Instead of using a blow dryer, let your hair air-dry whenever possible, and try not to use a curling iron to do any styling. These kinds of heated tools will damage your hair's cuticle, which will cause the color to fade out faster.
revive Apply a protein mask to revive your hair if it becomes brittle and dry after spending time in the sun.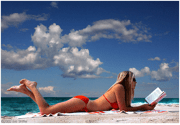 One other aspect of the sunny summer season to think about is getting a tan. Many women don't realize that changing the tone of their skin with a tan can create a new effect with their hair color – and it could be bad.
Tan skin contrasts with certain hair colors differently than it did before it was tanned, so you could end up looking orange if you don't take the correct pre-cautions.
Not everyone can pull off that tan beach-blonde look. Here are some important hair color tips that will help balance your tan with your hair color and skin tone:
If you have brunette hair:
Here's a basic rule of thumb for brunettes: if you have darker hair with warm undertones (like golden brown or deep honey), you'll most likely look good with tan skin. Many brunettes already have naturally tan skin, especially if you have golden, olive, or brown undertones. If this is the case, go ahead and soak up the sun!
But if you have a brown hair color shade with cool undertones to complement your fair skin, you may want to think twice before tanning. A tan skin tone may not work so well against your hair color in this case. In addition, if you have very dark hair, it tends to clash with very tanned skin – so go out in the sun with caution.