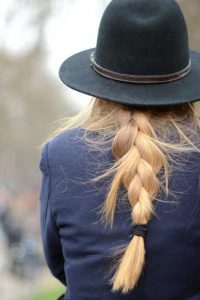 Now that the Colorado chill is setting in, it is a good time to start thinking about how to protect your precious locks from the damage that fall and winter can bring. Here are some things you should be doing to ensure your hair does not suffer this season.
Treat your hair once a week to a deep conditioning treatment. This will help to replenish the moisture, which tends to get depleted from things such as the dry heat in your apartment and the cold winter air.
Keep washing your hair to a minimum. This will prevent your hair from drying out too much. Always be sure to dry your hair before leaving the house. Not only because you will get a cold, but the moisture in your hair combined with the cold air, will add further damage to your hair by making it more brittle and dry.
Regular trims are a great way to keep your hair in good health during the winter months as well. Try to go every six to eight weeks, just get a light dusting of the ends to help reduce the chance of split ends.
Wrap your hair in a silk scarf before putting on your beanie. This will help to protect your hair from any damage that may be done.
Don't forget to be kind to your skin and hair this season by taking the extra time to care for yourself! Although some damage is inevitable during the chilly times these tips should help!