Instant Balayage & Ombre Looks with Hair Extensions at Glo Salon in Denver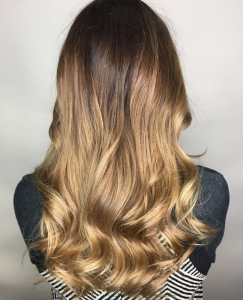 Reinvigorate your attitude and your hair color by getting a gorgeous set of hair extensions from Glo Denver Salon.
Our staff is the ultimate at crafting just the right hair extensions to suit whatever look you need. So whether you just want long flowing gorgeous locks that match your own or you want to get a little bit trendy by going for something in the ombre hair or balayage hair color, let's explore the differences so you can find out what is right for your own look. You have probably heard of ombre hair, but you may be unfamiliar with balayage. These are hair color techniques that can take your look from regular to extraordinary.
Ombre Hair With Hair Extensions
Ombre hair is a look that uses darker root colors and gradually gets lighter on the ends about midway down your hair strand. You can go with a huge color contrast for a more stand out ombre effect or you can go natural for a more subtle look. It's all up to you on how you want your own ombre to look. Most people like to start off subtle with a contrast between the roots and the mid strands and go lighter on the ends per their comfort level and how it looks with their skin tone. The contrast is what makes this look super unique.
What "Ombre" Actually Means
Ombre means "shade" in the French language. The French probably came up with this look because it's low maintenance. The French are known for their low key style in hair and makeup. They look effortless, but put together always.
So be like the French and know that you don't have to overly stress when your roots come in a little dark and grow out naturally. That's part of the look of true ombre hair.
If you don't love being at the salon every 4-6 weeks, then you might be the perfect client to explore an ombre hair look. Plus, the way the lighter ends look has the illusion of a sunkissed glow, making your face and features brighter in the process. Very pretty and sexy.
Talk to your Glo Denver stylist today about how you can incorporate an ombre hair extensions look into your existing extensions or with a brand new set of glorious extensions.
Balayage Hair with Hair Extensions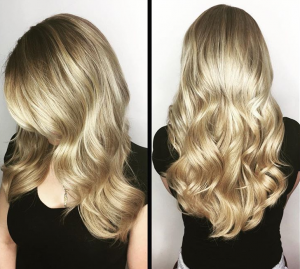 Balayage is the art of hand painted highlights. That means foils aren't used for these so they look more natural and unique. The Glo Denver colorist can have a lot of fun planning just the right look to your specifications. The options are truly endless with how you want your color to look. If you are new to coloring your hair this is also a great way to start the process because it's not so specific that you have to color very often. The grow out phase looks pretty natural for the most part. This is low-maintenance dream hair for most on-the-go gals.
Hair Color Fun with Balayage & Ombre Hair Extensions
Whether you want to do ombre or balayage, you can do so many unique colors with the help of hair extensions. If you have pictures of a look in a fashion magazine or have one that you like, feel free to bring them in so the colorist can get the full picture of the color and fullness that you want.
They will, of course, make recommendations based on your skin tone, lifestyle, look you want achieve, and desired level of maintenance.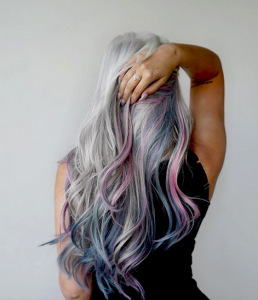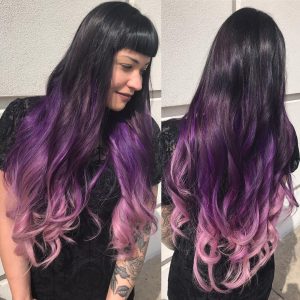 You can do something completely wild and free, like a deep sexy violet that blends into a pastel based plum or you can use fantasy colors such as pink, blue and purple to add a special effect to your ends. It's up to you on how wild you want to go with your hair color. The sky's the limit here. Go wherever your vision and imagination takes you. The best part about hair extensions is the fantasy fun of it all which is enhanced by a fantastic ombre hair or balayage hair color.