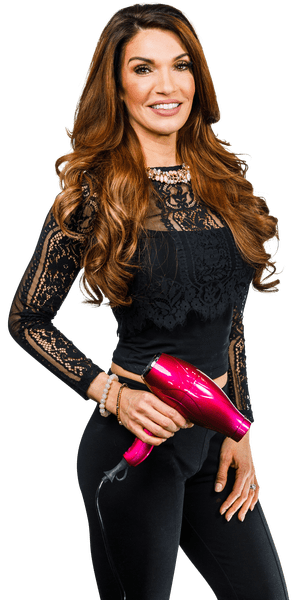 Heather Occhionero
Founder/Owner of Glo Extensions Denver and Certified Master Hair Extensions Stylist
Since 2006, Heather has been studying the art of hair extensions full-time and has since been trained and certified with the countries top hair extensions experts. Heather has gained unrivaled experience in the industry and has literally transformed thousands of hairstyles. She's seen every application type and has experimented with all of them. She knows exactly what works for any type of hair thickness, color and length…and more importantly, what doesn't work.Click to read Heather's full bio.

Cortney Gearing
Hair Stylist/Great Lengths Certified Hair Extensions Specialist at Glo Salon Denver
Originally from Nashville, TN Cortney grew up in Denver, CO with her mother and sister. She has an affinity for working with Balayage, curly hair and truly enjoys making guests feel incredible about how they look when leaving the salon. Cortney is a graduate of the Paul Mitchell the School in Denver and a Certified Great Lengths and Hotheads Hair Extensions Specialist. She's a seafood lover who enjoys Hiking Swimming, Snowboarding and the outdoors. She has 2 Chihuahuas named Honey and Coco and we are extremely proud to have her as part of the Glo Salon Family. Cortney's Full Bio.
Hadeel Khaireddin
Hair Stylist/Great Lengths Certified Hair Extensions Specialist at Glo Salon Denver
Hadeel grew up in Denver and is originally from the country of Jordan. She has 3 gorgeous smart little sisters and a one-eyed cat named Navi. Afters years as a young girl cutting and coloring her friends hair in her bathroom, her father recommended that she go to beauty school and Hadeel says this was the best decision of her life. She is a graduate of the Paul Mitchell school in Denver and is also a talented makeup artist in her own right. She joined the Glo Hair Family in late 2015 and loves doing Ombre hair, Balayage, haircutting and Men's fades. Hadeel's Full Bio…

Caitlin Howes
Hair Stylist/Platform Artist and Great Lengths Certified Hair Extensions Specialist at Glo Salon Denver
Caitlin is a 5-star stylist that creates cutting edge and classic looks that will make you feel like a million bucks!! Caitlin recently relocated to Denver from Michigan and brings a wealth of talent and expertise to our Glo Salon Family. She is an educator and platform artist for "Rock Your Hair" and has competed in fashion shows and is a Hotheads certified Hair Extensions Specialist. Her upbeat and positive attitude and experience as a previous salon manager and trend setting stylist make her an excellent and exciting addition to our already strong team of Glo girls! Please help us give Caitlin a warm welcome to Denver![/three_quarters]
Bri Moden
Hair Stylist at Glo Salon Denver
A former client of Glo for her wedding, Bri Modén impressed us with her positive attitude and sheer excitement for being behind the chair! Originally from Tacoma, WA, she grew up in Denver and is a graduate of Xenon International Hair Academy. She rocks a great foil, loves creating a flawless, blended cut using razors and point cutting, and she's not too shabby at blowouts either! Her 8 years of experience as a hair stylist in Denver, Phoenix, and Kansas City, have allowed her to transform and uplift many women both physically and emotionally. She knows what it's like to have a hair disaster that can ruin self-esteem, therefore she is empathetic and determined to find your definition of perfection! When she's not working at Glo, you'll find her watching Kansas Jayhawks basketball, travelling, attending the dirt track car races, shooting shotguns (yes you read that right), hanging with her husband and raising her 2 boys. You may be surprised that Bri used to work at a well-known funeral home here in Denver and is a college graduate! She's a sushi lover and says one day she plans to retire in Turks & Caicos, where her and her husband spent their honeymoon! We hope you get to meet Bri the next time you're in, because she will certainly bring a smile to your face and deliver a remarkable and welcoming service.
Brittanie Davis
Hair Stylist/Great Lengths Certified Hair Extensions Specialist at Glo Salon Denver
Brittanie was born and raised in California but has happily called Denver her home for the last 16 years. She has been doing hair professionally for 5 years and is a Great Lengths Certified Hair Extensions Specialist. One of Brittanie's greatest strengths is helping women to find that cut and style that works with the vision they have, and not just bringing it to reality…but make it better than they thought it would be! Brittanie loves pastel colors and we can almost guarantee that each time you come to the salon she'll either have a different color or style she's wearing. Like many of our guests, Brittanie loves to change up her look often! She is a fitness fanatic and has a passion for extensions and volunteering to do cuts/colors for homeless shelters. She says spicy Mexican is definitely her favorite food and on weekends you'll find her doing anything outdoors when weather permits. A big welcome to our new Glo Family member Brittanie Davis!
Laura Estrella
Salon Coordinator at Glo Salon Denver
Laura was born and raised in Denver, Co and went to school in Boise, ID before making her way back home. After transitioning from a job as a professional makeup artist at a big-name retail store into a 7-year career as a retail manager, Laura made the leap into salon customer service and chose Glo from their warm, welcome and genuine kindness. She's always been known as a fixer and certainly has a knack for thinking outside the box and finding solutions to problems. In her spare time, you can find Laura bowling, line dancing and she tells us she is a self-proclaimed queen of karaoke! Laura is a cancer survivor and works passionately with the light of life foundation where she dedicates her time and resources to improving the quality of life in thyroid cancer patients. We are incredibly excited to have such an organized go-getter as part of the Glo Family!
Read Client Reviews for Glo Salon
---