Glo is a PLATINUM Great Lengths Extensions Salon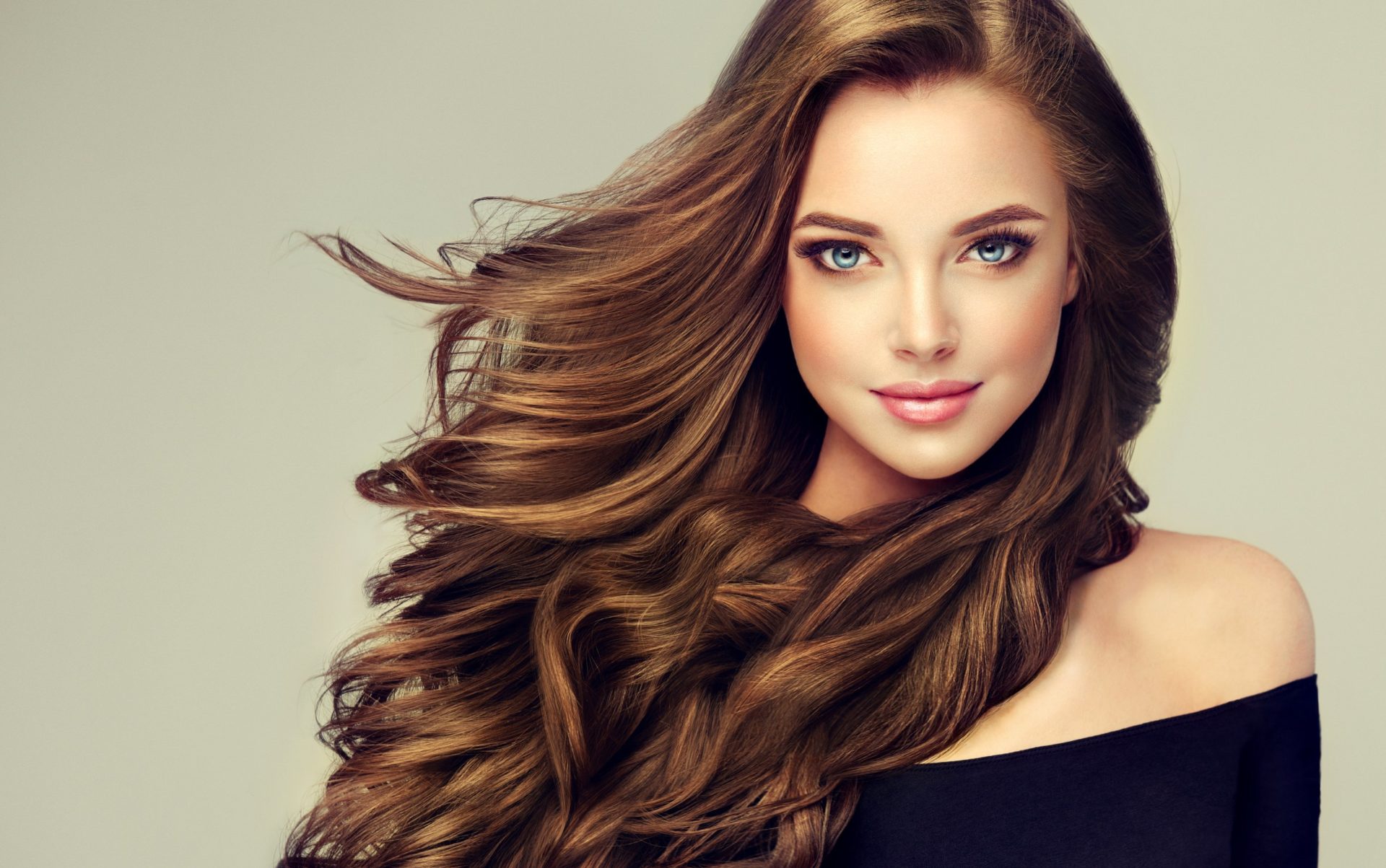 Great Lengths Are The Best Hair Extensions on the Market
Women often ask us "What is the best brand of hair extensions?" Hands down, the answer is Great Lengths Hair Extensions. Top hair extension stylists around the world use Great Lengths Hair Extensions for their superior hair quality, plush volume, and non-compromising attachment techniques.
Look for the Great Lengths Quality Seal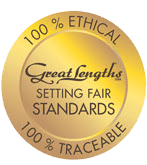 Great Lengths utilizes only Remy hair extensions which means that the cuticle layers are all facing the same direction from root to end and, therefore, do not tangle. The thickness is consistent from root to tip. This ensures that the extensions behave exactly like your own hair, blending in superbly with yours and looking super natural!
100% Human Hair from India, guaranteed to be ethically sourced
Remy hair, so all the strands flow in the same direction to maintain shine and color vibrancy
Double drawn hair, so the thickness is uniform from root to tip
Very discreet bonds made of keratin and color-matched to the weft
Longest lengths available, up to 24" long
80+ shades, including natural shades, rooted shades, fashion colors, bronde, balayage and ombre
Hair lasts 3-5 months with proper care
Glo Extensions Denver is a Platinum Great Lengths Salon
Training is the most important part of our Great Lengths Extensions services, because high-quality extensions are of no value if they aren't applied correctly. Our Glo Extensions Certified Hair Extensions Specialists have gone through Great Lengths' meticulous certification program. No other company requires or offers the in-depth education that Great Lengths does.
Glo Extensions is also a Platinum Great Lengths Salon, meaning we have achieved specific levels of Great Lengths service experience and frequency. In addition to our years of experience doing many different types of hair extensions, our education and training is rivaled by few. We guarantee you will receive the finest hair extensions experience in Denver, CO!
Some of our favorite transformations with Great Lengths Extensions
See More Great Lengths Transformations by Glo Salon
Great Lengths Keratin Bond Extensions
Great Lengths Fusions, or keratin bond hair extensions, is one of our signature services at Glo Salon. Fusion extensions attach to the natural hair using a patented keratinized bond and a thermal tool. They are a strand by strand application with superior stability in the hair. Great Lengths Fusions are the ultimate when it comes to comfortable, durability and look.
Great Lengths Tape Extensions: GL Tapes
We also offer GL Tapes, a tape in application using the high quality hair you know and trust. GL Tapes are made of authentic premium hair anchored to an extra-thin adhesive strip. Wefts of hair are sandwiched between slices of your natural hair, so discreet they can even be applied up close to the scalp and around the hairline. Tape in hair extensions are a popular service because they are an express application. They require less time in the chair initially but require maintenance (removal and re-application of the hair) at regular intervals to keep them looking fresh.
Custom Hair Color for Great Lengths Extensions
At Glo Salon, we have mastered the art of hair color, especially when it comes to coloring hair extensions. We can customize your Great Lengths extensions by color matching your desired look to Great Lengths' selection of 80+ pre-colored shades. Or we can color or highlight your Great Lengths extensions before we install them. After all, they are made of 100% human hair. Going for a completely new look or a vibrant fantasy color? We can custom color your natural hair and your hair extensions before installation.
Get Started with a Free Consultation
We always start with a Free Hair Extensions Consultation. Our expert consultations are valued at $50, and it's on us. No obligations. Completely free of charge. Why? We do this to to make sure that you have a solid knowledge about hair extensions and what you can expect, what they will look like and how it fits into your budget.
We take the time to understand the look that you want and to assess your hair's condition and texture. We'll determine which type of Hair Extensions are the best option for your hair, determine the length, thickness, finish needed for your desired look. We can color match your hair to the Great Lengths color palette or we can talk about custom color options. We'll be able to answer any questions you may have and give you an exact price for the service. If we don't have what we need in our inventory, we'll place your order and have your extensions prepped and ready for your appointment, or as we like to call it...your day to shine!
Our Great Lengths Hair Extensions Service
For an exact price, please schedule a consultation. Our service includes:
Great Lengths Hair Extensions in pre-colored shades
Installation by a Great Lengths certified stylist
A blended haircut and finish
FREE product samples
Custom hair color - for your base color or for your extensions - is available for an additional fee.
Certified Great Lengths Hair Extensions Salon in the Denver Area
Denver Tech Center
Lone Tree
Greenwood Village
Centennial
Highlands Ranch
Englewood
Littleton
Castle Rock.
Book Your FREE Hair Extensions Consultation
Great Lengths Hair Extensions is our signature service here at Glo, and our hair extension experts will create a recommendation based on your hair, get to know who you are and find a style that accentuates your features and personality. (If your hair is not suitable for Great Lengths fusion extensions, we also carry their tape in extensions along with many others.)
Book your consultation appointment by using the online form or calling the salon.
303-968-4222
Great Length Hair Extensions Colors
Great Lengths hair extensions are available in so many natural shade...like ebony extensions, licorice extensions, platinum blonde extensions, pastel pink hair extensions, salt and pepper hair extensions and many more!
Great Lengths Extensions come in 40 Natural Shades
Great Lengths hair extensions match the color of your own hair. Strands are available in lengths from 8 inches to 24 inches. Consult with a professional to decide whether a full head lengthening, volumizing, highlighting or zonal volume application is right for you.
Great Lengths Extensions come in Fashion Colors
Great Lengths Hair Extensions offer fun jewel toned colors to create a strong impact or subtle balance to any hair design. Choose from a colorfast spectrum of rich jewel tones, pure pigment primary and soft pastel colors.
Great Lengths Extensions come in Swarovski Crystal Strands
Genuine Swarovski Crystal strands make a unique statement for a wedding, special occasion or red carpet event. For a seamless blend, crystal strands are available in clear, red and blue crystals on black, red, brown and blonde threads.
Glo Clients Talk About Their Great Lengths Hair Extensions
Learn About Great Lengths Hair Extensions
How Great Lengths Hair Extensions are made
100% natural human hair of the highest quality is used
, and all of it ethically sourced for from the Temples of India. This is the finest source of virgin hair available in the marketplace that is most compatible with Caucasian and European hair textures.
Great Lengths Hair Extensions are guaranteed* to meet the following criteria:
Every strand has been donated willingly and with the full consent of the donor.
The donor has been treated with respect and care.
A fair and reasonable price is paid to the Temples and the money is used solely for charitable endeavors.
A company representative procures the hair to ensure full and direct knowledge of the origin of the hair.(*Call for Details)
The Great Lengths Hair Extensions Application Process
Great Lengths Hair Extensions use a synthesized keratin bond which mimics the molecular structure of human hair. This bond, used as the attachment method, has the ability to expand and contract with your hair as you wash and dry it. This type of flexible bond keeps your Great Lengths hair extensions in place for as long as possible.
Great Lengths Bonds are attached using a heated tool. The applicator tong is heated, the equivalent of the LOW setting on a curling iron, and is used to soften each bond so it can be molded to your natural hair. Unlike other systems, where glue guns and wax melting pots are used, this applicator allows for a very clean and precise application. The result is undetectable attachments that are brushable, durable and, most importantly, non-damaging to your natural strands.
The De-Pigmentation Process
The hair undergoes a delicate process of de-pigmentation which can take 15 - 20 days. The black pigments are slowly removed from inside the hair, not from the outside. The typical method of lightening/bleaching hair using ammonium derivatives damages the cuticle layer, thus compromising the hair's texture and condition! Our De-pigmentation process does not damage the hair and permits the removal of the black pigment without altering the quality of the hair.
Pigmentation Process
The hair is subjected to a special process that does not use hair color, peroxide, or bleach. Because hair strands are not treated with harsh chemicals normally used to alter color, the hair's structural integrity, condition and texture are maintained. This process provides the wearer and the professional the luxurious, silky feeling of virgin hair.
Learn more about Great Lengths Hair Extensions at Glo Salon in Denver
How to care for your Great Lengths Hair Extensions once you leave the salon.
Great Lengths Hair Extensions Frequently Asked Questions
Certified Great Lengths Salon in the Denver Area
Denver Tech Center
Lone Tree
Greenwood Village
Centennial
Highlands Ranch
Englewood
Littleton
Castle Rock.
Serious about getting hair extensions? Get our Ultimate Guide.
10 Things You Need to Know Before Getting Hair Extensions.
Hair Extensions are as popular as ever but it's easy to be overwhelmed by all the different methods and types available. Before getting extensions, you need to know the facts. So do your homework, ask lots of questions and make an informed decision that's best for YOU. Request a copy of our Hair Extensions Guide - it's FREE! Just tell us where to send your download link.

Learn how to care for your Great Lengths Hair Extensions once you leave the salon.