Are You Ready For Head Turning Looks and Endless Compliments on Your Hair?
If you're ready for a total makeover, and a major ego boost, then hair extensions are a dream come true for your hair. You'll look and feel like you just stepped off the Red Carpet. Start your hair transformation at Glo Extensions in Denver.
Book a Complimentary Consultation
(303) 968 4222
Glo Extensions Salon

Women from all over the country come to Glo Extensions Salon in Denver Colorado. They want to completely transform how their hair looks, and dramatically change how they perceive themselves.
They know that at Glo Salon, they can get the very best human hair extensions and have them applied by a certified hair extensions specialist, then cut and colored to blend in with their own natural hair. Time after time, the before & after pictures are simply stunning.
When you step out of Glo Extensions Denver, you will feel ready for the Red Carpet. That's what hair extensions can do for your look, your confidence and your self esteem.
Hair Color
Experts in hair color, hair color correction, balayage and highlights. Download our Free Hair Color Guide.

Hair Extensions
Applied by certified hair extensions specialists, we carry Great Lengths, HotHeads (aka Hair Talk), and more.
Weddings
Formal wedding hairstyles, vintage bridal hair, updos with extensions, wedding makeup, and on-location services.

Makeup Services
Be camera ready for special events, pageants and model shoots. Traditional and airbrush makeup, strip lashes and flares.

Types of Hair Extensions at Glo Salon
Tape In Hair Extensions
Tape in extensions are our most popular service. They are easy to maintain, re-usable and last 5-8 months.
Clip In Hair Extensions
Clip-In Hair Extensions are great for special occasions or adding pops of color without actually coloring your hair.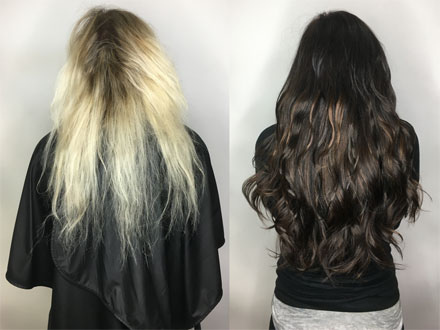 What can hair extensions do for you?
How much do hair extensions cost?
Book a Complimentary Consultation
Take the first step and schedule an in-person, no obligations consultation. There's no cost to you, and in about 30 minutes, we'll determine the best style, type and color extensions based on your hair and your budget, and answer any questions you may have.
Free Gift from Glo
The Ultimate Guide to Hair Extensions
Before investing in hair extensions, we highly recommend doing your research. Understand the different types of hair extensions and the maintenance required to make them last. That's why we've created this all in one guide. We'll teach you how to spot a true hair extensions expert along with how and why to avoid stylists that lack the proper certifications and hands on experience.