Tape-In Hair Extensions at Glo Extensions, Denver
Who else wants long, luscious hair?
That was a trick question…because we all do and you've come to the right place.
Here's a little secret…few women have this type of hair naturally, most use tape in hair extensions to achieve this spectacular look.
Our tape in hair extensions are the most popular service we do here, for so many reasons — including walking out of our salon doors feeling like a million bucks and…
They look amazing and last a long time.
Using real hair to amplify what you have naturally, you'll look like you stepped off the red carpet–our extensions last 5-8 months
They are easy to maintain and re-usable.
Caring for your extensions will cut down your morning prep time and maintenance appointments are a breeze.
You can gain both length and volume.
Kiss low self confidence with thin hair goodbye- with our extensions, you'll get the long, thick hair you've been dreaming of.
You can wear them to workout, swim and shower.
You're on the move, and we get it– unlike other extension variations, you can live your life and not worry about having to remove anything or avoid doing the activities you love.
They are cost effective and endure for any occasion.
This modern luxury is affordable and while Glo uses the best of the best, we price our extensions to reflect our quality and world class stylists while staying competitive.
Here's just a sampling of our Tape In Hair Extensions before and after photos:
Now, we know what you may be thinking — you may have heard the common misconception that tape-in hair extensions have damaged people's hair.
And like anything, if the person performing the service is under-qualified and hasn't spent time practicing the skill and uses low quality extensions, disaster is bound to happen.
Here at Glo, our process is designed to both securely attach the extensions to the root of your hair while allowing your natural hair to grow gradually using the best in business, Hothead Extensions.
Watch this video as we explain…
Feel glamorous with your hair…in under an hour!
Your expert stylist here at Glo will have you in and out in under an hour…and best of all, maintenance appointments are just as quick and easy.
Here's how we do it…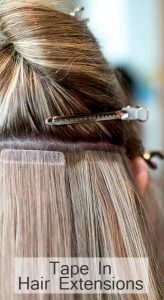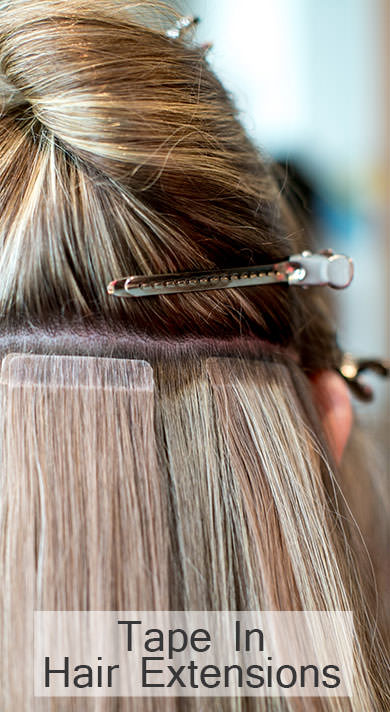 Adhesive weft tape-in hair extensions are made by gathering individual strands of cuticle intact human Remy hair in small sections and secured at the top of the weft with adhesive tape. This adhesive tape is fixed to both sides of small sections of your natural hair.
These thin hair extension wefts don't need any heat application, no sewing and with no need for tools, you can have fabulous hair in less than an hour! What's more, tape-in hair extensions have been developed and designed to sit flat to the head for an undetectable flawless finish.
Best of all, our extensions last 5-8 months…
With proper care and regular maintenance appointments your tape-in hair extensions will last on average 5-8 months. Maintenance appointments must be scheduled every 6 weeks to re-apply the hair professionally to minimize damage.
And if you're suffering from thinning hair, this can be an incredibly difficult and sensitive time. One of the best ways to disguise thinning hair and disguise hair loss in women, especially around the frontal area of the head is to invest in tape-in hair extensions.
How Much Are Tape-In Hair Extensions?
Prices for Tape-In hair extensions at Glo Extensions, Denver start from $650 for the initial cost of the hair and the first application appointment. Maintenance appointments are $100 an hour. Length of time needed for further maintenance appointments will depend on the thickness of your hair and amount of tape-in hair extensions originally applied.
Hotheads Hairwear for Thinning Hair
If you're suffering from thinning hair and hair loss, this can be an incredibly difficult and sensitive time. One of the best ways to disguise thinning hair and disguise hair loss in women, especially around the frontal area of the head is to invest in tape-in hair extensions. Glo carries Hairwear products to provide a full-hair solution for thinning and fine hair using top of the head hair enhancements that require no shaving or bonding. Hairwear pieces are worn all the time for up to 6 weeks and can be used for up to 12 months. This is the perfect solution for women who are self conscious about hair loss and thinning hair on the top of the head. Used in conjunction with Tape-In hair extensions for a full finish, these can literally change the life of the wearer! Please contact me for more information and to discuss your individual needs. All clients' information is treated in the strictest confidence.
Tape-In Hair Extensions – The Options
Tape-In Hair Extensions: Micro Strands:
Hotheads Micro Strands are specifically designed to lay completely undetectable in areas where tabs tend to be cumbersome. Micro Strands are available in 20 Piece Packs in 3 lengths. It is recommended that Micro Strands be removed and new strands be applied every 4 weeks, to maintain the integrity of your hair
Tape-In Hair Extensions: Pastel packs:
Pastel packs are pre-blended with our human hair and temperature safe synthetic fiber. Our pastel shades come in Light Peach, Lavender and Buttercream. Create subtle candy-colored looks without the damage associated with coloring your hair. Pastel packs are available in multi-packs, as well as 12 piece packs.
Tape-In Hair Extensions: Ombré Collection:
Our Ombré line provides that highly sought after gradation, without the maintenance associated with most Ombré styles. Ombré Tape-In hair extensions are available in 2 lengths and 6 gorgeous dark-to-light shades.
Call Us Now To Book!
Don't wait until the last minute as our stylists at Glo can book up months in advance for your extensions, — call us now and prepare to look spectacular!
For more tape-in hair extensions services in Denver, take a look at our hair extensions at Glo Salon.
Tape-In Hair Extensions by Glo on Facebook
---