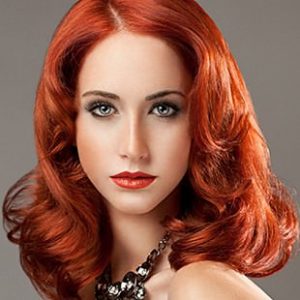 This Fall it's all about red heads. It has never been so fashionable to go red. Whether it's a sunkissed strawberry blonde hair color, a red hot cherry red or a natural and effortless auburn hair color – look out! Red heads will be everywhere.
Red Heads – The Definitive Red Hair Color Trend, Glo Extensions, Greenwood Village, Colorado
At our hair salon in Denver we take a look at some of the hottest celebrities and their red heads hair color trends.
Red Heads – The Celebs
Christina Hendricks has been one of the top red heads on TV the last few years! Just like her former sexy Mad Men TV character, she shows off an amazing all over red-orange hair color. Styled in Hollywood-inspired curls and worn with a stunning red lipstick, this is a glamorous and retro look that Christina pulls off effortlessly.
Another one of the best know Natural red heads is Amy Adams. She wears a natural strawberry-blonde hair color which looks gorgeous against her porcelain skin. This is a great natural red hair color style and it looks particularly flattering against paler skin tones.
Ultimate pop princess Rihanna is seriously on trend with this stand out cherry red hair color. Rihanna has been wearing red hair colors on and off over the years and we definitely think red is her color.
Lana Del Ray has also played around with a variety of different hair colors in recent months, but this subtle strawberry blonde hair color is one of our favorites. The mix of copper red and blonde hair colors look natural against her pale complexion. This style is yet another example of a gorgeous natural red hair color style.
Red Heads – Switching from another color
One of the most stunning red heads this year is Emma Stone wears a stunning auburn hair color with some stand out russet tones making her hair really shine. This color, which gives Emma's hair a real multi-tonal look also makes Emma's gorgeous green eyes really pop. It's a really great red hair color style for her.
Auburn is such a versatile red hair color and here Emma Roberts shows us how stunning red-brown hair colors look fantastic with nude and peachy make-up. Her low maintenance styled up do shows off a variety of different red and brown hair colors and gives the illusion of natural highlights.