Tape-In Hair Extensions, the most popular extensions in Denver, add length and fullness in about one hour!
Our Hairtalk (previously called HotHeads) tape in extensions are our most popular hair extensions service for many reasons. You'll look like you stepped off the red carpet with all that glamorous length and volume. And, these tape-in extensions apply very easily. Your expert stylist here at Glo will have you in and out in under an hour. Not only do our tape in extensions last 6-7 months, but maintenance appointments are just as quick and easy as the application. And if you have thin hair, it's never been easier to kiss low self confidence goodbye. One of the best ways to disguise thinning hair and disguise hair loss on women, especially around the frontal area of the head, is to invest in tape-in hair extensions. With our tape in extensions, you'll get the long, thick hair you've been dreaming of.
They look amazing
They can be applied in about an hour
Last 6-7 months
Reusable
Add length and volume
Safe for everyday activities, such as working out and showering
Why Glo Salon in Denver is the BEST salon for Tape-in Hair Extensions
We always start with a Free Hair Extensions Consultation so that we can assess your hair's condition and texture. We'll verify that Tape In Hair Extensions are the best option for your hair type and determine the length, thickness, color and finish needed for your desired look. We'll answer any questions you may have and give you an exact price for the service. If we don't have what we need in our inventory, we'll place your order and have your Tape In Extensions prepped and ready for your appointment, or as we like to call it...your day to shine! When you have your hair extensions applied, we'll also cut, blend and style your hair with your new extensions in so they're absolutely perfect. As part of your service, you'll also receive complimentary Shampoo and Conditioner to maintain your extensions at home!
We are Certified Hair Extensions Specialists
There are a lot of hair extension salons. So we urge you to do your homework and choose the best qualified. Thanks to our extensive hair extensions training and ability to turn even the worst of hair situations into an extreme hair makeover, it's made us the go-to hair extension salon for Denver's elite clientele.
We have hundreds of happy clients from all over the country.
We have clients fly in from all over the U.S. after being referred to by friends in other states. They'll gladly pay airfare and hotel to simply get the best hair extensions around!
Get Started with a FREE Hair Extensions Consultation
Our expert hair extensions consultations are valued at $50, and it's on us. No obligations. Completely free of charge. Why? We do this to to make sure that you have a solid knowledge about hair extensions and what you can expect, what they will look like and how it fits into your budget.
Book Your FREE Hair Extensions Consultation
Tape In Hair Extensions are our most popular extensions service here at Glo, and our hair experts will create a recommendation based on your hair, get to know who you are and find a style that accentuates your features and personality. (If your hair is not suitable for tape in hair extensions, don't worry as we have other options such as fusion hair extensions or clip in hair extensions.)
Book your consultation appointment by using the online form or calling the salon.
303-968-4222
Tape In Hair Extensions Denver before and after photos: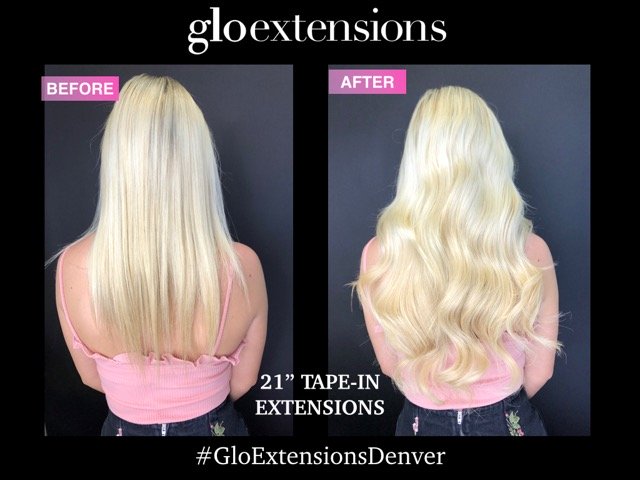 What's the difference between fusion hair extensions and tape in extensions?
We get that question a lot! We offer BOTH types so can advise on what will suit you best if you book for a free extensions consultation.

Listen to what our Tape in Hair Extension clients say:
Tape in hair extensions are so popular for a reason. Don't take our word for it, hear it first hand from our beautiful Glo Guests.

Will Tape In Extensions Damage My Hair
Have you heard that tape-in hair extensions have damaged people's hair? If the person performing the service is under-qualified and hasn't spent time practicing the skill and uses low quality extensions, disaster is bound to happen.
At Glo, our process is designed to securely attach the extensions to the root of your hair while allowing your natural hair to grow gradually. And we use the best Tape In Extensions, HotHeads/HairTalk.
How are Tape In Extensions Attached?
Adhesive tape-in hair extensions are made by gathering individual strands of cuticle intact human Remy hair in small sections and secured at the top of the with adhesive tape. This adhesive tape is fixed to both sides of small sections of your natural hair.
These thin hair extension don't need any heat application, no sewing and with no need for tools, you can have fabulous hair in less than an hour! What's more, tape-in hair extensions have been developed and designed to sit flat to the head for an undetectable flawless finish.
How Much Are Tape-In Hair Extensions?
Prices for Tape-In hair extensions can range so it's recommended that you start with a consultation.
Are Tape In Hair Extensions Safe for Thinning Hair?
If you're suffering from thinning hair and hair loss, this can be an incredibly difficult and sensitive time. One of the best ways to disguise thinning hair and disguise hair loss in women, especially around the frontal area of the head is to invest in tape-in hair extensions. Glo also carries HairUWear wigs and toppers that require no shaving or bonding. HairUWear pieces can last 8 to 12 months and they can be combined with a tape in application. Please contact me for more information and to discuss your individual needs. All clients' information is treated in the strictest confidence.
What are some of the options for Tape-In Hair Extensions in Denver?
Tape-In Hair Extensions: Micro Strands:
Hotheads Micro Strands are specifically designed to lay completely undetectable in bangs or around the temple area. Micro Strands are available in 20 Piece Packs in 3 lengths. It is recommended that Micro Strands be removed and new strands be applied every 4 weeks, to maintain the integrity of your hair
Tape-In Hair Extensions: Ombre Collection:
Our Ombre line provides that highly sought after gradation, without the maintenance associated with most Ombre styles. Ombre Tape-In hair extensions are available in 2 lengths and 6 gorgeous dark-to-light shades. We can also custom color our tape-in hair extensions to give you any color you desire, pastels, bold color, the sky is the limit!
Call Us Now To Book!
Call: (303)968-4222