Make a Bold Statement with the Hottest Hair Color at Glo Extensions Salon in Denver CO!
At Glo Extensions, the Denver Hair Color specialists, our Hair Color Specialists will work with you one-on-one to find your perfect match your girlfriends won't stop talking about. Whether a special occasion, a show stopping event or a new seasonal look — you're in great hands every step of the way. Simply come in, sit back and work with our team to create the masterpiece you'll love every time you look in the mirror, or receive yet another amazing compliment.Highlights, Balayage and Ombre Hair Color.
We're Here To Make Your One of a Kind Hair Color Come Alive...
At Glo, we believe in a holistic approach to your style, because each of our clients are unique. Our holistic process is about discovering your perfect color, style and treatment to help you create the look of your dreams. Your stylist will discuss your many options and help you take some inspiration from the latest looks in cuts and color and apply them to your own style.

From beautiful highlights and rich lowlights, to ombre and balayage – we have the experience and skills to give you the look that you desire...and deserve.
Be sure to view our hair color picture gallery for some great cut and color makeovers by Glo Salon.
Your Stunning Hair Color is Only One Appointment Away…
Your stylist may recommend one of several types of highlighting and color accent techniques to best complement your cut and style.
Foil highlights are a precise technique used to give face-framing highlights or very subtle blond highlights throughout the hair. Low lights add color, not lightener, to give your style some depth. And a combination of highlights and lowlights is a popular technique to give your color beautiful dimension.

Depending on your desired look, your stylist may suggest Balayage, a freehand technique in which swatches of hair are sectioned and hand painted with a lightening agent. Ombre hair (and Sombre hair which is a subtle ombre) is also a freehand hair color technique where color or lightener is applied to the ends of the hair for a dip-dyed look.
The Perfect Hair Color For Your Skin Tone And Style

Whether you want to make a bold statement or simply cover grey, Glo Salon can guide you to the perfect hair color choice for your hair type and your natural skin tone.

Changing a hair color is not as simple as applying a new shade to cover the old. If you hair has been colored before, you are likely to have different shades at the tips through sun lightening or repeated washing, root re-growth, or a build-up of colorant on the mid-lengths. Under these circumstances, a change of hair color means dealing with each part of your hair individually, using different Hair Color Glo Extensions Denver Salon Techniques, colors, and tones on each hair. We will take great care of your hair coloring process to keep the integrity of your hair healthy.

A complete hair color change can produce dramatic, striking results, or can be used just to cover gray hair, or to liven-up your own shade with better hair color intensity, depth and shine. We ensure even and total coverage to give a perfect result. We offer a wide choice of hair colors, shades and tones.

Re-growth or roots – We can re-touch your hair color that was previously applied. Not only does it cover natural color re-growth or gray hair, but it also adds new color depth and shine so that your hair looks in perfect condition..
If You Had A Hair Color Disaster, Don't Stress – We're Here To Save The Day!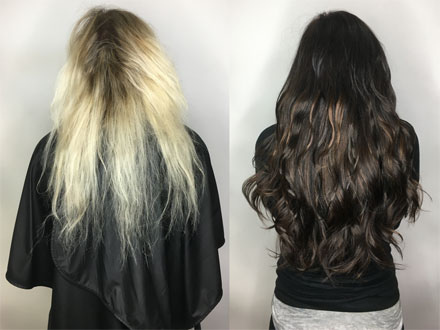 The truth is we've become pretty used to fixing up hair color mishaps, and we're here to create a masterpiece out of your mess.
Inhale, exhale and experience why our clients love us – because we know how important your hair is for your confidence and lifestyle.

Fixing a hair color problems can be as simple as correcting highlights that are too orange or removing dark bands where color has been overlapped too many times.
We also get a lot of requests to fix a bad balayage or ombre hair, attempted at home or by someone who didn't know what they were doing.
Sit Back, Relax And Let Us Make You Feel Beautiful!
Correcting hair color disasters is a specialty at Glo and that's why we are called hair color specialists. Normally these complex hair color problems will require removing color from some sections while adding color to others.
Your Happiness, Confidence And Radiating Beauty Awaits – Book Your Hair Color Consultation Today - Call 303.968.4222!
Get your Free Guide to Hair Color Confidence from Glo Salon Denver
Just enter your info below to get an immediate download link for our new Glo Hair Color Guide sent to your inbox. The Guide includes a free gift for you!