Sit back, relax and let us help you look beautiful for your big day!
"Wedding season was the most stress-free period of my life"…said no bride ever.
But it doesn't have to be that way…Glo Salon is the go to place for wedding hairstyles and wedding makeup in the Denver area where we'll alleviate all your stress and help you look stunning from the moment you walk down the aisle to the very last dance, because well — you deserve it!
Whether you're a bride, bridesmaid, flower girl or the Moms of the couple-to-be, our team of world-class wedding hair stylists and makeup artists are ready to make it a day worth remembering, specializing in a tailored, 100% customized approach.
We know that deciding on your wedding hairstyle and makeup look involves taking into account your dress, the venue, the weather, the wedding theme and inspiration, and endless decisions before settling on the final look…
And our mission is to make this a fun, exciting and tailored process that you look forward to and never have to stress about — so you can do what you do best.
We specialize in…
Wedding Hairstyles, Updos, Wedding Styles with Hair Extensions
Wedding Hairstyles for the Bridesmaids and Mother of the Bride
Themed Bridal Hair and Bridal Makeup
Every bride should look and feel gorgeous on the most photographed day of her life.

Imagine the possibilities as you work one-on-one with your team to develop a custom, tailored approach for your special day which includes our Wedding Hair & Makeup Trial Run Appointment.
During your wedding hair trial, we'll show you exactly how you'll look on your special day, combining our experience in styling Denver's premier wedding events and your unique, spectacular vision and inspiration to craft your masterpiece based on your length and texture.
Use this appointment to to get an idea of how your wedding hair and makeup feels and performs for an extended period of time, so there are zero surprises — and make sure to schedule a special date that night because you'll look fabulous!
Here's how it works…
You'll step into our salon and tell us about your wedding dress, your flowers and décor, and how you usually wear your hair and makeup for a special occasion. We will listen and guide you toward the style that suits you best, working together.
During the trial, our artists will take detailed notes and photos so that when your big day comes, we are fully prepared and ready to recreate the wedding hair & makeup you desire and we've envisioned together, leaving out any last minute surprises so you know exactly what to expect.
Book your Wedding Consultation Request by filling out the form below or if you prefer, call us now at (303) 968 4222.
NOTE: We recommend at least 6 months in advance of your big day to make sure we can get you on our busy schedule.
Bridal Party Hairstyle Ideas
Have a big bridal party planned? You've come to the right place..our artists will work with you to create any look you want!
Bring photos of wedding hairstyles as inspiration, or let us do something original and beautiful that complements your look.
And if you have a big bridal party, we will bring along an additional stylists to make sure everything goes smoothly. So the mothers of the bride and groom feel special and look perfect on the day, we can be booked for their wedding hairstyles and makeup too.
Glo Salon Wedding Hairstyles

Crafting the perfect Wedding Hairstyle is our passion — whether your signature style is romantic, sexy, flowing, chic, modern, wavy, textured, beachy, soft, glamorous, or flirty, we will work with you to make it a reality on your wedding day.
Updos, half-up styles, down styles—we have the know-how to create any variation of the popular wedding hairstyles.
Wedding Hairstyles with Hair Extensions
We specialize in hair extensions, which are a great option for boosting the length or fullness of your favorite wedding hairstyles. We offer three options:
Fusion Extensions – These are the best looking and most durable of the three options, lasting around 4 months!
Tape-In extensions last for more than a month, from your wedding rehearsal right through your honeymoon, and you won't even feel them.
Clip-In extensions are available for purchase for your rehearsal and wedding day. If you purchase them, we will train you to attach them so you can wear them to other special events.
On Location Wedding Day Services
Want us to come to you? Done! The Glo team is happy to travel to your home or hotel, allowing you to be in the comfort of your own space and completely relax while we work our magic.
A minimum of 6 services (Makeup or Hair) is required for on location services by the Glo team. In addition, our destination fees will cover any wedding outside the Denver metro area. Please call our salon for details as these amounts can vary based on location. (303) 968 4222
Ready to get started?
We're here to make your dream day a reality — whether it's your big day, or you're simply participating, contact us by calling (303) 968 4222 to get started.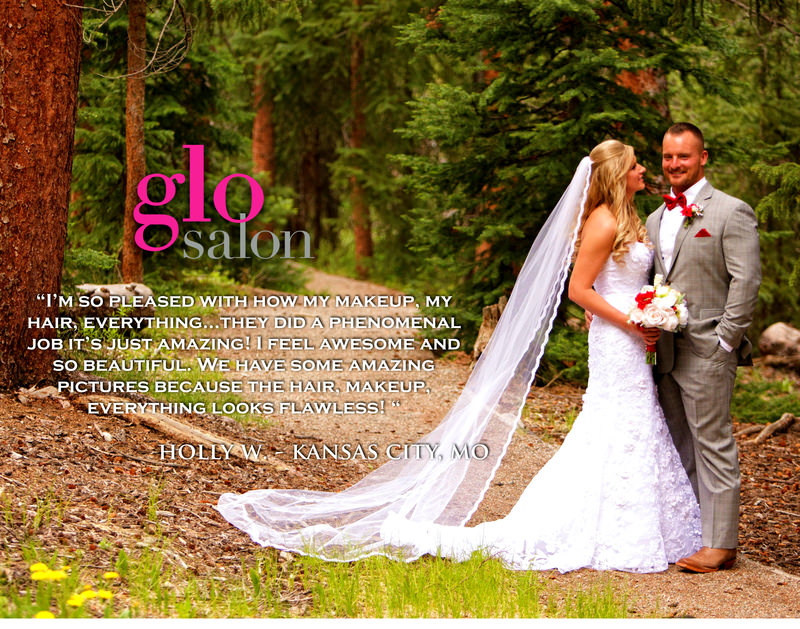 Glo's Wedding Hairstyles Gallery
Can't get enough? Here is more Wedding Hairstyles and Wedding Makeup inspiration:
Looking for ideas for your wedding hairstyles or other special event? Browse through some of our blog posts, or image galleries, where we've put together a collection of our favorite pics from around the web.
Wedding Hairstyles Inspiration on Pinterest
---