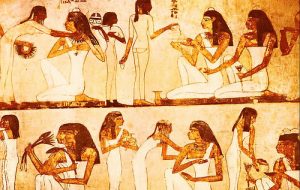 People have been getting their hair colored for centuries. There is evidence that the Egyptians used henna to change up their look from time to time. Plus, during the Renaissance "sun bleaching" was a popular form of highlighting the hair. Highlights in general are meant to produce results that are sunkissed. That hasn't changed over the years, but what has is the fact that there are some new highlighting techniques that can completely overhaul the look of your hair.
You might have seen some of these newer hair looks on celebrities walking the red carpet or in magazines, but what are these techniques called? If you are confused about ombre hair, balayage, or babylights here is a helpful guide to get you the hair color result you desire.
Ombre hair Is Low Maintenance Fun
When you think of ombre hair color, picture it being darker at the roots with a gradual lightening towards the ends. Ombre means "shade" in French. So the hair is "shaded" at the bottom. It's much easier to maintain this look because you can let your darker roots grow in naturally. This is kind of the reverse of what regular traditional highlights usually are all about. With your ends lighter in an ombre look, it imparts a glow to your entire face. This technique is usually performed on shoulder length hair and longer.
Balayage Is Freehanded Highlights
Balayage on the other hand is a little less specific. The word means "sweeping" in French, but what that translates into hair color is free-handed highlights. They are intended to look more naturally sunkissed. Regular foils in coloring the hair tend to look a little uniform. Balayage looks like those old school highlights and more like the ones you got as a kid playing out in the sun. The best part is that it grows out beautifully with less of a regrowth line in your hair.
Babylights Are For The Coloring Shy Gal
If you aren't ready to commit to a full head of highlights, then you might want to ask for the technique called "babylights." What they require of the colorist to do is add very fine, delicate highlights around the face all the way down to the ends. It's meant to mimic a child's hair that is brightened by the sun. Think of it as just more subtle highlights.
Whichever technique is right for your own head of hair is up to you, but talk with your stylist at Glo Extensions to customize a result that will make you feel beautiful. Our Denver based hair color specialists are trained in the latest cutting edge techniques to get you the best look possible. The right color can transform your entire presence, so you'll feel confident wherever you go.