We've been very busy here at Glo, getting clients styled with tape ins (in Denver and from all around the country) and we can say this: the flexibility, look, and glamour in tape in extensions is here to stay. For far too long, women were limited by their hair's natural limitations: if you had thin hair, or graying hair, or curly hair (and so on), there was only so much you could do to change it. Thanks to advances in styling, tape in extensions have been a game changer today.
Why? They look natural, they last, they are easy to maintain, and daily activities such as showering and even swimming don't pose any issues. Unfortunately, there are far too many myths and misconceptions out there about tape in extensions…so, in this blog, we want to answer some of the most common questions we get about tape in extensions.
#1:Tape In Extensions Do Not Ruin Your Hair
This is a question we get asked all the time: "but will tape in extensions ruin my hair?" The short answer is: no. Want a longer explanation? Tape in extensions are the least likely of the available products on the market to cause any damage to your hair. Why? Because they are light, they don't pull on your hair (clip in extensions, for example, are heavier). Tape in extensions are applied with a non-invasive method: specialty tape that is medical-grade.
If you've suffered from hair breakage due to extensions, tape-ins are a safer option for you. Maybe you've heard scary stories about hair breakage due to extensions: these are probably exaggerated and refer to older styles of extensions. Of course, extensions must be applied correctly to protect the health of your natural hair — so be sure to find a qualified extensions salon in Denver (more on that below). Bottomline here? The idea that tape in extensions will 'ruin' your hair is a total myth.
#2:Tape In Extensions DO Last for Months
The idea that tape in extensions don't last all that long is a total myth. Believe it or not, properly applied extensions (with regular maintenance appointments) will last between 5 and 8 months. Yes, you can shower with tape in extensions. You can swim with them. You can wash your hair with tape in extensions (not excessively, of course). You can brush your hair — and resume all normal activities.
An important rule of thumb to follow is that you want to find a qualified Denver salon (or one in your local area) that specializes in quality tape in extensions — and has a reputation that speaks volumes (pun intended!).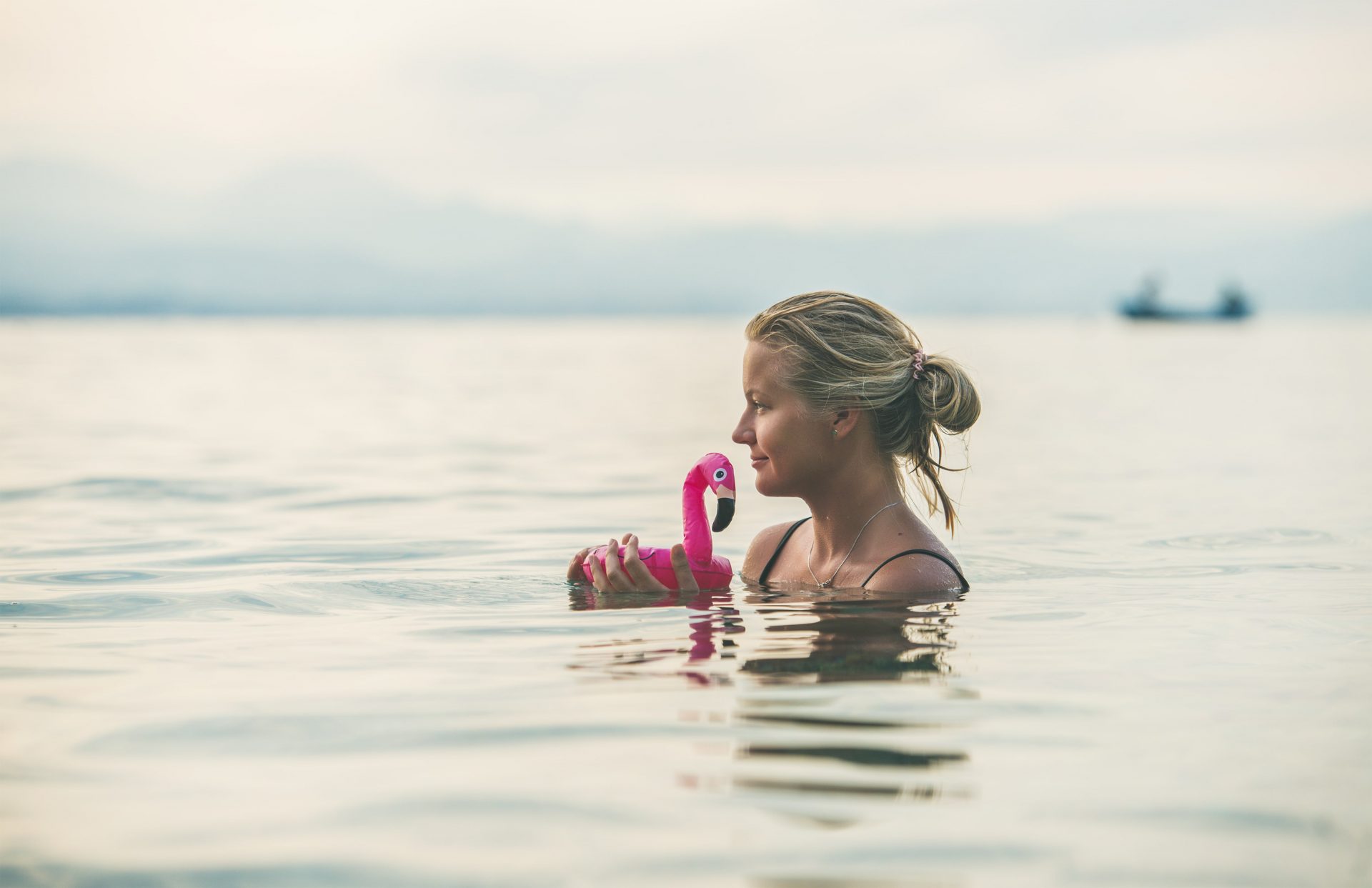 #3:Tape In Extensions are Perfect for Women with Thinning Hair and Hair Loss
When you have thinning hair or hair loss or both and want your full head of hair back, tape in extensions can be a wonderful option. Many people suffer from thinning hair or hair loss at various times in their lives — from natural loss to loss that occurs after a cancer fight or other serious illness — and use tape in extensions as a truly restorative step in healing.
If you're local to Denver, you're in luck: you don't have to travel far to get access to GLO's amazing line of Hairwear pieces that have been especially created to provide full coverage for thinning hair — without any invasive application. Hairwear products are used in conjunction with tape in extensions, transforming hair completely. They can be worn around-the-clock for as long as 6 weeks at a time — and can be worn for as long as a year.
#4:Tape In Extensions Styles & Colors are as Creative as You Are
Another common misconception about tape in extensions is that you will have trouble getting the color you want — or that current styles such as Ombre looks can't be done with extensions. While this may be true at some salons that aren't true experts in extensions, Denver's GLO Salon gives you limitless options when it comes to color and style. Want an Ombre look? Sun-kissed hair? With extensions, you can have it.
From a custom cut to any color under the rainbow, you can have your hair look exactly the way you want it to. We use amazing brands, such as Great Lengths, offers an endless array of customization and options for colors — guaranteeing you will never get bored with your tape ins.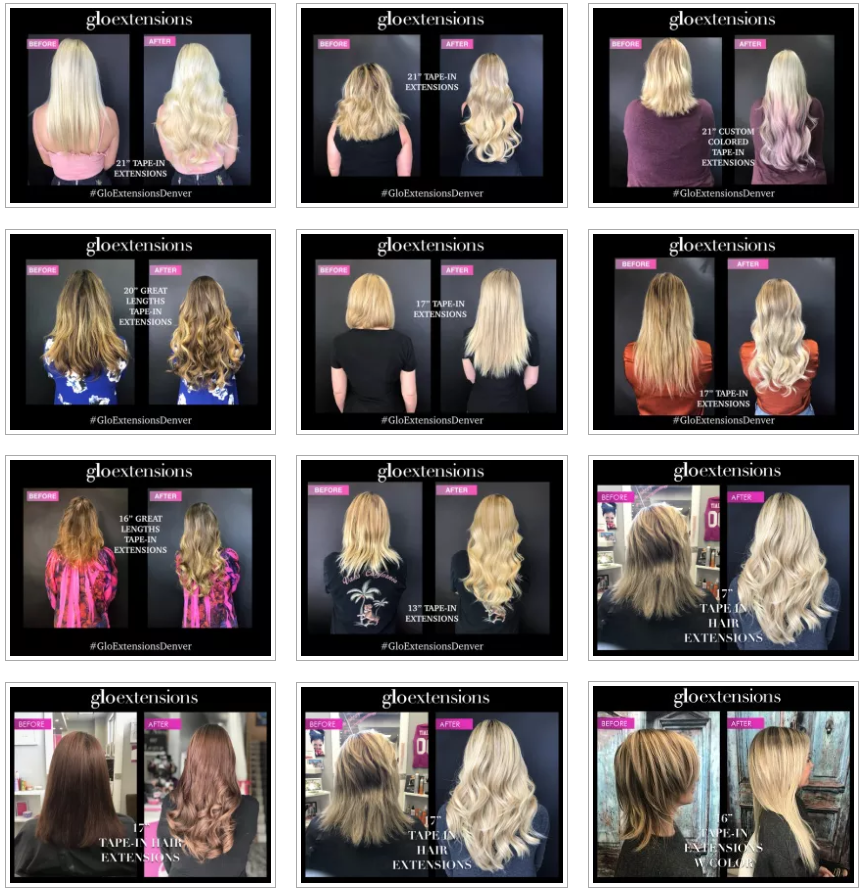 5: When it Comes to Tape In Extensions, the Quality of the Salon You Choose Really Matters
We can't say this enough: the quality of your extensions is only going to be as good as the salon you choose. If you've had (or know someone who has had) a bad experience at another Denver salon, don't let that stop you from enjoying the benefits of tape in hair extensions. Here's the thing: there are far too many salons that offer hair extensions as an extra service and too few salons offering extensions as their number one focus. At GLO, we are one hundred percent focused on creating amazing outcomes with our full line of extensions — and we know tape in extensions inside and out.
You wouldn't go to a mechanic for a new transmission if their main focus was tires, for example — you do not want to go to a salon that may be great at natural hair styles but for whom extensions is just an afterthought. At Denver's GLO, we have mastered our craft and we have thousands of happy customers (from Denver and from all over the country who fly here for our services) that highlight just how good we are at creating beautiful new looks with expert hair extensions.
If you are interested in a brand new look, don't let a bad experience at a non-specialty salon, other people's 'horror' stories, and myths that are simply untrue steer you away from what could be a transformative new look for your hair (and for yourself). In our experience, extensions (when done right) can enhance quality of life in ways our clients never dreamed of.
Bottomline? Tape in extensions are gentle on your hair, are durable, work well for thin hair/hair loss, give you an endless amount of creativity and options — when you choose a quality extensions salon such as GLO right in Denver.