Summer can be absolute murder on your hair. But who cares? You're out there in the sun, sand, and surf living it up like a active gal should. The problem is that your hair can become a wee bit damaged in the process. Don't worry though, with a few handy tips and techniques your hair will be back in glorious health, just in time for the fall and holiday seasons. Repair summer damaged hair in a flash with this three part process.
Best Shampoo To Get Rid Of Product Buildup and Pool Hair

Throughout the summer, whether you are hitting the pool or even your local beach, your hair is absorbing extra chemicals. That can make your hair color turn brassy, fade, and look withered. Plus, during the summer months we tend to use more dry shampoo, which can lead to excessive product buildup at your roots. That's not healthy for scalp and hair growth.
The solution? You have to commit to a hair detox plan. ColorProof makes the best ClearItUp Detox Shampoo that we offer at Glo Extensions Denver Salon.
It's 100 percent vegan, has super detoxifying ingredients like baking soda, and conditions with Vitamin C and E for added vitality. Give your strands the detox they need with a weekly bath in this key product from Colorproof. Keep in mind this won't strip your hair or damage your color treated strands. That's the beauty of using this special product in the summertime.
Best Deep Conditioner to Repair Dry Damaged Hair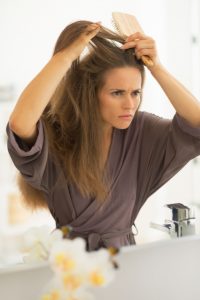 Condition, condition, condition, and then condition some more! We're not kidding here, you have to deep condition your hair. Those strands have been exposed to the harsh UVA/UVB rays of the summer sun. You can't overdo it with the conditioner! Not only should you condition every time you wash your hair, but think about adding a deep conditioning mask once a week.
Do it on Sunday night when you're bingeing on something cool on Netflix or be honest, it's Game of Thrones right now, isn't it? How does Jon Snow have such beautiful hair? Maybe after slaying those dragons, he's deep conditioning his dark curls. You should be too. Don't skimp on this step because it's the best way to revive sun damaged hair.
ColorProof Deep Quench Moisture Mask is perfect for this brave task. It's maximum hydration for dry and brittle hair. Your hair will be shiny and protected from the outdoor elements, heat styling, and everything else you put your hair through. Leave it on for at least twenty minutes.
Best way to mend split ends…snip them off!

Since summer can take its toll on your hair, what you end up with after the season is over is split ends. That means it's the perfect time to come into Glo Extension Salon for that all-important trim or fall season glamour cut. You can try to mend split ends in other ways, but the very best way to get rid of them is to have one of the talented stylists at Glo snip them right off. Or maybe it's time to get that set of extensions you've been lusting after.
Call us today to schedule your consultation to make that summer damaged hair of yours gone in a flash. (303)968-4222
---
About the Author
Glo Extensions Beauty Editor Kelly Reising is the published author of "Lifetips 101 Makeup Tips" which is available on Amazon.com and at many bookstores nationwide. With a journalism background, her articles have appeared in such publications as Allure, Vogue, and Working Mother Magazine. Connect with her on Twitter @kellyreising