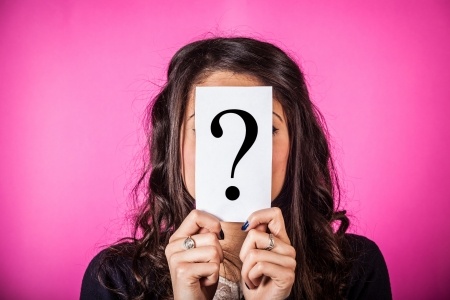 Hair can be quite a mystery. When you get right down to it, hair can definitely make or break your look. So the question becomes, how much do you really know about that mop on the top of your head? Let's test your knowledge to see how much of a hair expert you are.
Question #1: What is virgin hair?
Hair that's never been touched by a love before.
Strands that have never felt hairspray in their life.
Untreated hair that's never been colored.
Question #2: Do blondes have more fun?
How can you even ask that?
I'm brunette and my life's a blast!
No, any hair color is ready for a good time in life.
All of the above.
Question #3: Should you flat iron your hair everyday?
Yes, it's not damaging your hair at all.
No, it's too much heat stressing your hair which can lead to damage and split ends.
Yes, with the right flat iron.
Question #4: You should get regular trims every…
Every 12 weeks
Weekly
Once a month

Question #5: Does mayonnaise make a great hair conditioner?
No, you should stick to a hair mask from Color Proof, like Deep Quench Moisture Mask.
Yes, but it smells too horrible for words.
Yes, but it's better in your tuna salad.
All of the above
Question #6: You should brush your hair this much everyday?
Just like Marsha Brady, 100 strokes before bed every night!
Once a day to get the tangles out with the right brush for your hair type.
Question #7: What does a hair serum do?
It makes your hair curly.
Hydrates the hair.
Serums help to eliminate frizz because they contain dimethicone.
Question #8: Can fine hair support hair extensions?
No, it's going to cause breakage.
Yes, absolutely! You just have to find the right ones for your hair type.
No, you'll never get them to match your hair color.
Question #9: A chignon is a type of style that looks like this…
A high ponytail.
Where you crimp the hair.
Basically a French twist. Duh.
Question #10: The best place to get hair extensions is where?
Glo Extension Denver Salon of course!
The drugstore. (NOOOOOOOOO!)
Your local mall kiosk. (Double NOOOOOOO!)
How To Get Your Results: Tally up how many questions you answered correctly, which will tell you HOW MUCH YOU KNOW ABOUT HAIR.
Answers: 1)C 2) D 3) B 4) A 5) D 6) B 7) C 8) B 9) C 10) A
7-10 Answers Correct: Hair Pro. You know your mane stuff!
Wow! You are a hair expert. It's like you have been interested in hair your whole life. Did you want to be Rapunzel growing up? Those long gorgeous waves are probably a style you rock in your own life. If you don't have the long hair of your dreams, get it with a trip to Glo Extensions Denver Salon for a set us extensions that exceed your wildest expectations. Or try out a new color, cut, or style to change up your look. Granted, as a hair pro you've probably been through many different incarnations of your look, but there's always room for a total hair makeover. Ever thought about the new pastel trend?
4-6 Answers Correct: Hair Intermediate. You know just enough to style your own hair.
You may not know everything about hair, but you know enough to make yours presentable. That's a good thing. If you feel like you might want to do something different with your hair, but you don't know exactly where to start, then this is probably the category you fall into. Maybe you look at the products available at your salon and don't even know where to start. Talk to a stylist at Glo Denver about their Color Proof line. There are a variety of new and interesting hair products that can significantly improve the style of your hair to fight frizz, enhance waves, make it super sleek, or even just protect your color while you shampoo. Either way it's worth exploring all the options that are out there.
1-3 Answers Correct: Hair Novice. What hair? You just don't care!
Do you even have hair? Just kidding. Maybe you're just that awesome, low maintenance kind of gal with the perfect "wash and go" hair that you've never really thought much about. Good for you. Some of us have to work at our hair game. All kidding aside, it's probably okay that you don't know that much about hair, maybe you are away at school studying to be an astrophysicist. If fashion magazines and hair products aren't your thing, we're cool with that. If you ever want to change up your look or have any questions about hair color, products, or awesome extensions you could rock, then give us a call at Glo Extensions Denver Salon. (303)968-4222. We're happy to help hair novices with any hair questions you might have.
About the Author
Glo Extensions Beauty Editor Kelly Reising is the published author of "Lifetips 101 Makeup Tips" which is available on Amazon.com and at many bookstores nationwide. With a journalism background, her articles have appeared in such publications as Allure, Vogue, and Working Mother Magazine. Connect with her on Twitter @kellyreising