Which Type of Hair Extensions Are Best For You?
During our exclusive consult here at Glo, we'll look into all the factors and exactly what you're looking for to find the best hair extensions type. We'll study your hair and scalp, assess your hair type, talk about your lifestyle, work and activities and decide which are best for your goals.
Hair Extensions are generally grouped according to the application method, and we specialize in the following:
Fusion Hair Extensions
Using a low-heat application, your fusion hair extensions are fixed to small sections of your own hair using a keratinized protein bond – ensuring a beautiful and natural look.
Tape in Hair Extensions
Tape-in extensions are made of human Remy hair. Each weft is sandwiched in between small sections of your natural hair close to your scalp, secured by a medical grade adhesive tape.
Clip In Hair Extensions
Clip In Hair Extensions apply instantly, require no commitment and can be removed and reapplied whenever you want. Incredible looks and flexibility.
Weft Extensions
Using a hidden beaded row method, a base row is created with beads and string, then wefts of hair are attached with a needle and nylon thread, positioned above and below each bead to conceal the bead itself.
The truth is…having your extensions applied is one thing, but being able to maintain their look daily is the most important factor when deciding whether the extensions are right for you. We'll explain the different techniques and how they can affect comfort, durability, styling and maintenance so you'll have the confidence to move forward knowing exactly what you need.
To learn more about what to expect during your Glo consultation, watch our short video below. You'll also find a video about the different types of extensions we offer.
What length of hair extensions would suit you?
Here's our front and back hair length guides to help: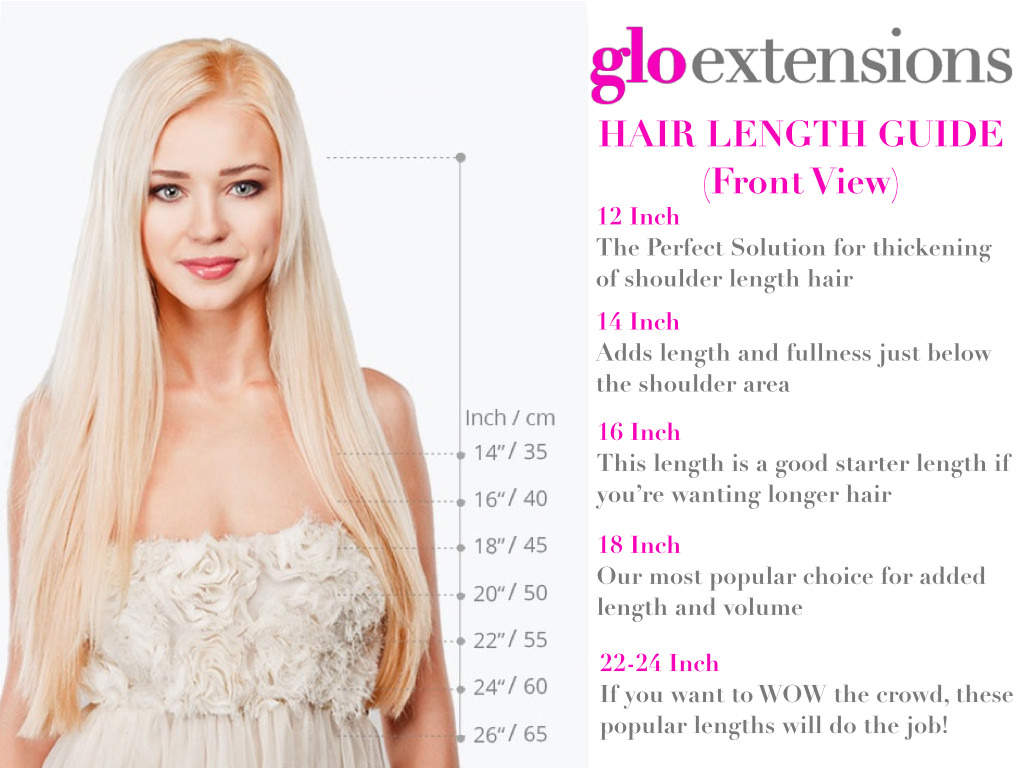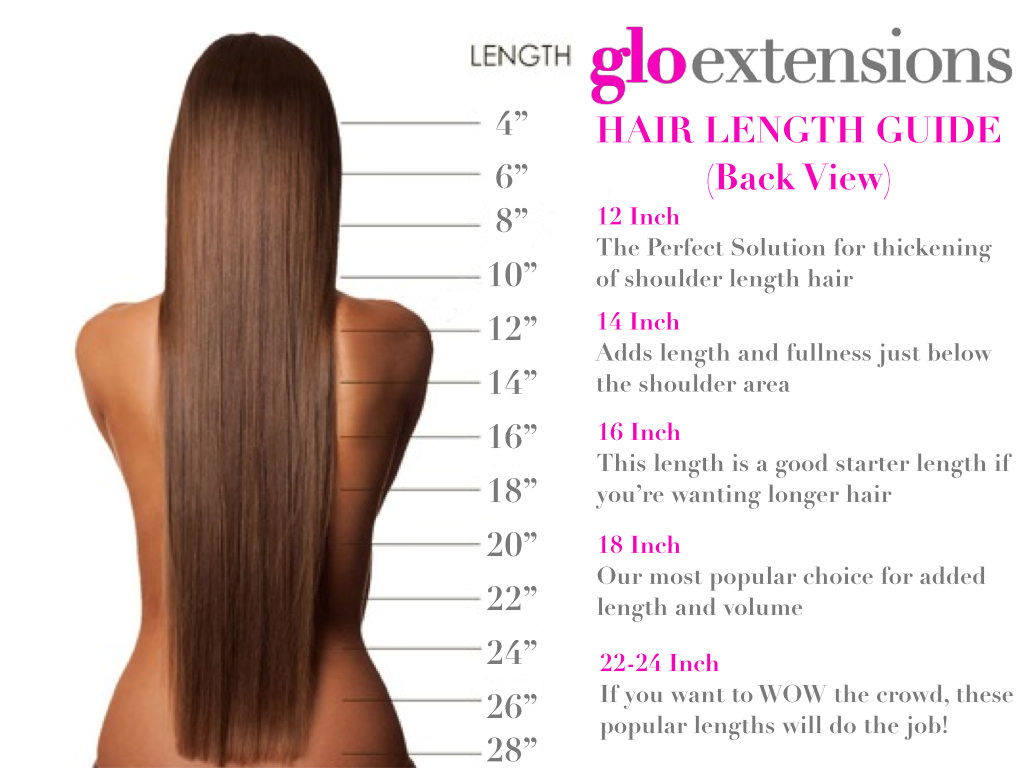 Human Hair Extensions colored, applied & worn by the Glo Hair Extensions Specialists in Denver, Colorado
Why our clients LOVE Hair Extensions
You can come into our salon and leave like you just stepped off the cover of Vogue in a couple hours is one of the many reasons that millions of women are using the best hair extensions to look and feel amazing, achieving the special confidence only thick, luscious looking hair can provide.

Extensions add body and volume to fine hair.

Instantly add fullness and length to short hair.

Restore length, beauty and vitality to damaged or thinning hair.

Add new, exciting arrays of color without actually coloring your hair.

Add sexy, glamorous beautiful hair that leaves others speechless.
...but before we go any further, you must understand the below.
Warning

: Not Every Salon Uses A

Certified

Hair Extensions Specialist

With almost endless options of hair extensions on the market, it's easy to get confused or make a brash decision...yet, we urge you to do your homework.

If you want celebrity quality looking extensions that even your closest friends will find undetectable, your extensions must be applied by a certified professional.

Besides using the best application techniques, using a certified specialist will help you craft a vision for your extensions based on your desires, lifestyle and hair type as well as the removal of the extensions.

Because we've seen and heard of the horror stories behind poorly done hair extensions which include permanent damage to your hair…

In fact, we've served countless clients who came here for us to fix them after going somewhere else!
Call: (303)968-4222
Examples of some Hair Extension disasters we were called to reverse...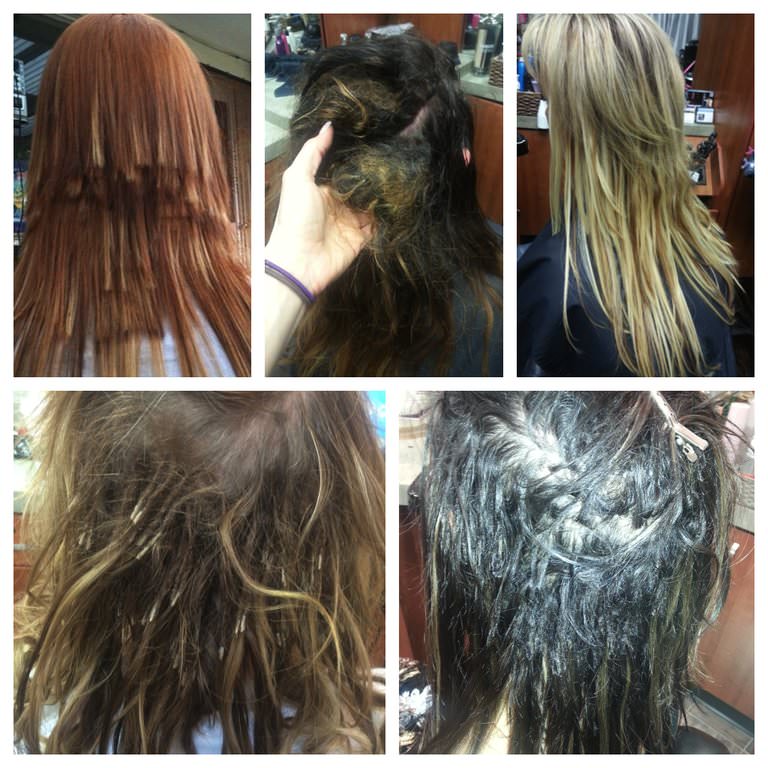 Here at Glo Salon in Denver, we are very careful to give you a blended cut and make any necessary color adjustments so that your human hair extensions will look beautiful and be 100% undetectable.
To see a few more disaster stories from clients who came to us seeking help, see our short video below. When the best hair extensions are properly applied, you are able to wash, blowdry and style your hair with ease. We send you home with proper care instructions so there is no doubt how to maintain your hair extensions for best results. You'll find a video below on proper home care.



To see more unbelievable before and after pictures, browse our gallery here.
Call: (303)968-4222
Extensions Hair Styles
We carry an enormous range of extension types, lengths and colors - so almost any extensions hair style is possible. Long and smooth red or mid-length and curly blonde. The beauty of adding Extensions Hair is it that everything is possible !
Yours Free: The Ultimate Guide To Hair Extensions
Doing your research is always highly recommended so you can get the best possible experience with your extensions, and that's exactly why we created this all in one, done-for-you guide that tells you the 10 things you need to know before getting hair extensions along with other helpful details:
How long do hair extensions take to apply?
How will hair extensions affect my own hair?
How are hair extensions color matched?
Can I use a hair dryer with hair extensions?
How do I clean my hair and scalp with hair extensions?
How long will my extensions last?
How are extensions re-tightened or removed?
..and so much more in this invaluable guide for anyone considering extensions now or in the near future.
Receive instant access now by entering your email and details right below.
Best Hair Extensions Salon in the Denver Area
Denver Tech Center
Cherry Creek
Lone Tree
Greenwood Village
Centennial
Highlands Ranch
Englewood
Littleton
Castle Rock.