Hairstyle Ideas: BOLD & FUN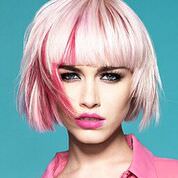 This season is all about taking risks. We have some fabulous ideas when it comes to bold and flirty hairstyles. From color all the way to accessories, we have so many ideas for you to try out.
Daring Hairstyle: Bold Color
If you are looking to take a walk on the wild side, make a statement with your hair color. Rather than going with natural looking colors like browns, blondes, and reds try going with an electric violet color. This color goes great with olive skin! This hairstyle is fun, flirty and pretty daring. It certainly is loud and if you want to show off your locks in a unique way, we say go big!
Daring Hairstyle: Statement Pieces
If you are not looking for a permanent change to your look but you are feeling a bit bold, kick up your look a notch with a statement hair piece. A headband with striking color and plenty of texture is the perfect hairstyle if you are looking to take a walk on the wild side without having to make a commitment.
Daring Hairstyle: Extra Short Fringe
If crazy fun color is not your thing but you are looking to mix things up a bit, perhaps a hair cut would suit you! Short, blunt, fringe is a look that is not suited for everyone however, it can be elegant and daring all at once. This hairstyle works well with dark-rich hair color. If elegance is a must for you, give this look a try!
Daring Hairstyle: Braids with a Twist
For a fun night out, rocking braids on only half of your head is a great way to look like a rockstar without having to have to alter your locks in a big way. This hairstyle works great if you have long or short locks a like. If you really want to sport this look in a dramatic way, try showing off your dark roots with light hair at the ends of your tresses.
Denver's Top Salon
Have some fun and mix up your look in a bold way! We can help you achieve a sassy, flirty, and fun look no matter what you are looking for. Whether you are looking to transform your hairstyle with a fresh color or hair cut that will turns heads, we can use our expertise for you! Book your appointment by calling (303) 968 4222.