Check out these foolproof Halloween Hair Ideas by Glo Salon in Denver.
Halloween Hair Ideas: GENIE
This very well may be one of the "unofficial" backup costumes for every woman on the planet, but it's foolproof! You can't go wrong with a genie! For Halloween hair ideas, this costume is classic and cute.
Part your hair horizontally with a comb from the top of one ear to the other. (Stick the upper portion in a clip for the moment.)
Tie back the bottom half tightly in an elastic just below the crown.
Unclip the upper section. Gather it
into another elastic, right above the first one.
Wrap a strand of hair from one of the tails around both elastics.
Secure with a bobby pin.
Halloween Hair Ideas: KIM KARDASHIAN
C'mon, you knew she would be on this list! She's the envy of every dark haired woman in America!
Here's how you can achieve Kim's iconic romantic curls.

1. On freshly washed hair, apply a leave-in-conditioner or oils (Argan), when your hair is halfway dry to prevent diluting the product with water.
2. Comb your hair
3. Apply a root-lifting product all over the roots.
4. Flip your head upside down to dry your hair Dry from roots to the ends.
5. When your hair is 70% (for very curly hair) – 90% (straight hair) use a cool-shot button on your blow dryer to cool off your hair. Do not dry your hair completely.
6. Use a round brush to dry the crown & pin it up. Use e a large boar bristle brush on the hair around the face for extra smoothness & shine.
7. Apply a setting lotion; this is a must for hard-to-curl hair.
8. Section off to start curling your hair, once your hair is completely dry.
9. Use a large barrel curling iron to create big curls. Curl all of your hair away from your face, and pin them up.
10. Allow your pin curls to cool off for 5-10 minutes.
11. Remove the pins used and flip your head upside down to apply your hair oil.
Halloween Hair Ideas: PAN AM STEWARDESS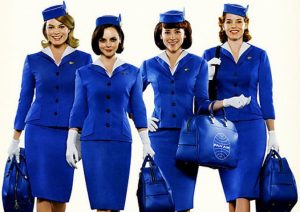 Yes, the series (Christina Ricci in particular) has spawned a new Halloween hair ideas trend dating back to the 60's, but stewardesses give off a real sexy vibe. Remember, as a Pan Am stewardess, you're attitude is trying to land you a sugar daddy!
1. Spritz the hair with volumizer. Use a comb to part the hair across the back of the head, from ear to ear. Gather the top section of hair at the crown, twist it one time, and secure with hairpins.
2.Gather the bottom section of the hair at the nape of the neck. Twist it in a column upward, so that the ends stick up.
3.Grasp the column of hair and tuck it underneath itself in the direction of the twist. Secure the hair along the twist with bobby pins. Finish with a misting of hair spray.
Halloween Hair Ideas: MEDIEVAL MAIDEN
If you are looking to go as a character from Game of Thrones this Halloween, the Medieval Maiden is right on trend! The best part about it, is this Halloween hair ideas look is effortless and simple!
Using your hands, work a golf ball–size dollop of mousse through dry hair. Finger-tousle hair for fullness.
Gather strands of hair under one ear.
Braid, and secure with an elastic (preferably the same color as your hair).
Halloween Hair Ideas: VAMPIRE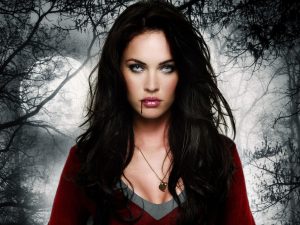 The vampire Halloween hair ideas trend seems to be incredibly popular! Being a vampire is all about the tousled yet effortless locks. So if you want to be a sexy bloodsucker, try these Transylvanian tips on for size.
1. Apply mousse to damp hair. Blow-dry, tousling with your fingers. Make a loose center part.
2. Using a curling wand, wind a section of hair away from your face. The wand doesn't have a clamp, so it creates smoother curls (no weird crimps) on long hair. Pause for 20 to 30 seconds, then gently slide hair off. Repeat all over.
3. Run your fingers through the ringlets to separate them into bigger waves. Spritz with hair spray to help them hold their shape.
Halloween Hair Ideas: CLEOPATRA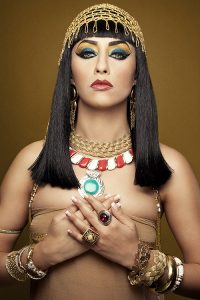 You simply cannot go wrong when it comes to looking an ancient goddess. Here's how to get that sexy Egyptian vibe.
1. Apply a smoothing serum to clean, damp hair.
2. Blow dry (using a directional nozzle) with a smoothing brush. Start with the bangs and work your way through the rest of your hair.
3. After hair is completely dry, take small sections starting in the back and run your flat iron through from roots to ends. Make sure to apply a heat protectant before flat ironing. The goal is to get hair as smooth as possible.
4. Run a small amount of smoothing serum on the top layer of hair. This will tame flyaways and give you a beautiful, glossy finish.
Halloween Hair Ideas: SEXY WITCH
This is a classic Halloween costume that seems to never go out of style and stands tall among our Halloween hair ideas!
1. Start by adding a sea salt texture spray to your damp hair
2. Using your fingers tousle your hair to give it an unsettled look
3. With a diffuser, lightly blow dry your hair until 90% dry
4. Use a brush to brush out your hair very gently
5. Tease and hair spray
6. If you want to go the extra mile add some wild color (greens, reds and purples) by using clip-ins or a temporary color spray!
Posted for Glo Extensions by Taylor E. Hensel
Halloween Hair Ideas: Makeup to Match
Halloween Hair Ideas on Pinterest
Halloween Hair Ideas from Scwhartzkopf
Halloween Hair Ideas: Messy Hair Tutorial
Halloween Hair Ideas: For Long Hair