Hair Extensions Prices: You Get What You Pay For
With hair extensions, you get what you pay for. It's as simple as that. Here are some factors on why quality and price matter in hair extensions of all types because you want to pay for quality and look great.
Hair Extensions Salons: How To Choose The Right One For You
Tape In Hair Extensions Denver: Where To Get Them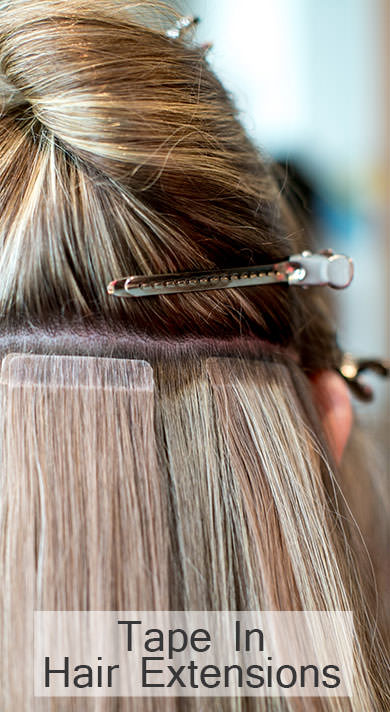 Tape ins are actually the most popular type of hair extensions out there, and with good reason. They take less relatively less time to apply - versus strand by strand or fusion extensions - and are easy to maintain and affordable. Most people don't realize that with proper care, tape-in extensions can last 6 months or more!
Your Guide to Clip In Hair Extensions
Are you curious about what clip in hair extensions can do for your look? If you're a newbie to clip ins, here's everything you need to know about these easy, versatile and affordable hair extensions.
Hair Extensions Denver: The 6 Part Checklist Before You Get Hair Extensions in Colorado
Before you jump into getting hair extensions, read this 6 step checklist.
Glo Extensions: Denver's Home for Great Lengths Hair Extensions
Great Lengths is considered the Rolls Royce of Hair Extensions. But where do they come from and why are they the best?
Hair Color Trends for 2018
We've been seeing a lot of subtle highlights that are less chunky and more natural looking than seasons past. Vivid colors are getting deeper, dipping into the darker shades on the spectrum. Platinum shades are moving in a buttery blonde direction. And there more hair color options than ever before, no matter your natural shade!
Hot Looks for the New Year
Go straight or let your curls and texture shine. From short bob hairstyles to long hair with curls, see which styles and colors are hot for spring.
Are you ready to go pink? We're talking hair color here ladies for a trend that takes some old fashioned moxie to rock.
NEW: Raquel Welch Signature Wig Collection
HairUWear wigs and hairpieces from the Raquel Welch signature collection are now at Glo!. Extraordinary quality wigs, fashion color wigs, faux fringe, along with clip-in bangs or ponytails.
2017 Halloween Costume Hair and Makeup Ideas
Check out the latest Halloween costume ideas for women with these sexy cat alternatives.
How Much Do Hair Extensions Cost?
What drives the cost of our hair extensions? Are some types more affordable than others? Laura Estrella, our star salon coordinator, goes into detail..
How A Glo Extensions Consultation Works
This is a terrific video done by our very talented stylist, Cortney Gearing, that explains exactly how the process works.
The Types Of Hair Extensions We Offer At Glo Extensions Denver
5-star hair stylist at Glo Denver Salon, Caitlin Howes, offers us a look at the kinds of extensions we offer at our salon.
The Difference Between Tape-Ins and Fusion Hair Extensions
Hadeel Khaireddin, one of our top notch hair stylists at Glo Extensions Denver Salon, takes you through the difference between tape in and fusion ("strands") hair extensions in this helpful video.
---